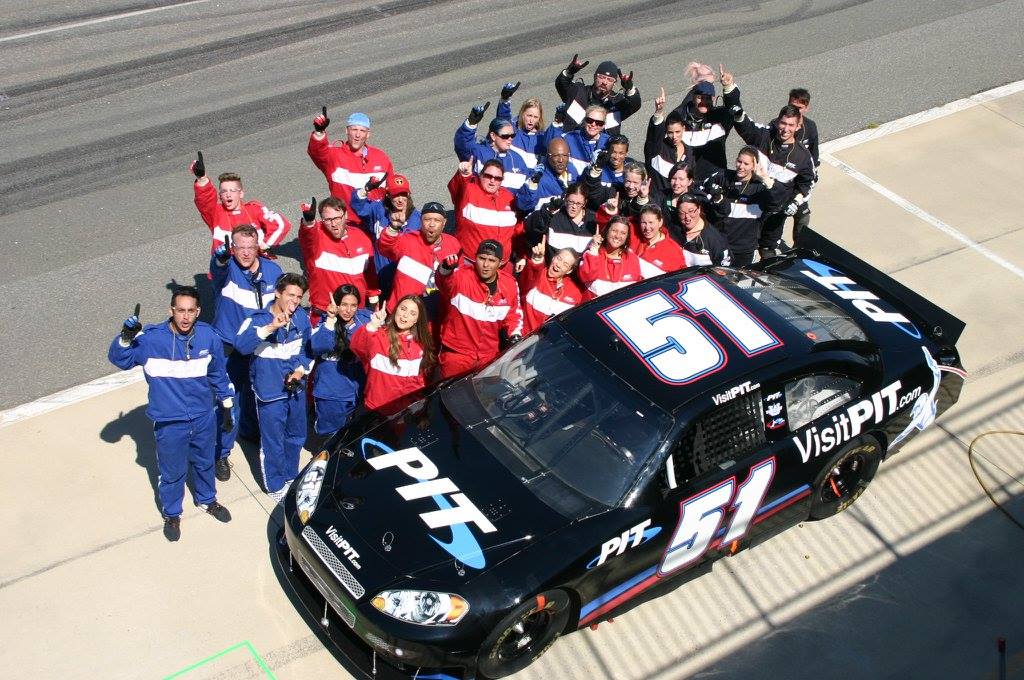 In the world of "Cars 3" Lightning McQueen and his fellow racers are assisted by their pit crew teams. These helpers can be the difference between winning and second place. The same can be said for real life racing. What happens when you take 6 crewmates, toss them into a loud, hot, hectic environment. Then throw in an 850hp racecar

hurtling towards them at 55mph? You get a NASCAR pit crew! These teams are trained to do in less than 15 seconds what us regular drivers take 15 minutes, on a good day! While on a Disney*PIXAR junket for "Cars 3" I had the amazing opportunity to experience a very lite version of what these teams do. Thanks to the folks at Performance Instruction and Training (PIT) we were able to suit up, grab the socket wrench, and go through just about the same motions as the real teams, without the gasoline and moving cars.
The visit to PIT starts of with a very informative presentation that covers the history of the NASCAR pit crews, the specific roles and responsibilities of each position, and what you can expect to experience later on. Everyone involved is either an active member of an active NASCAR pit crew, or was one. These guys really know what they're talking about and they take it very seriously.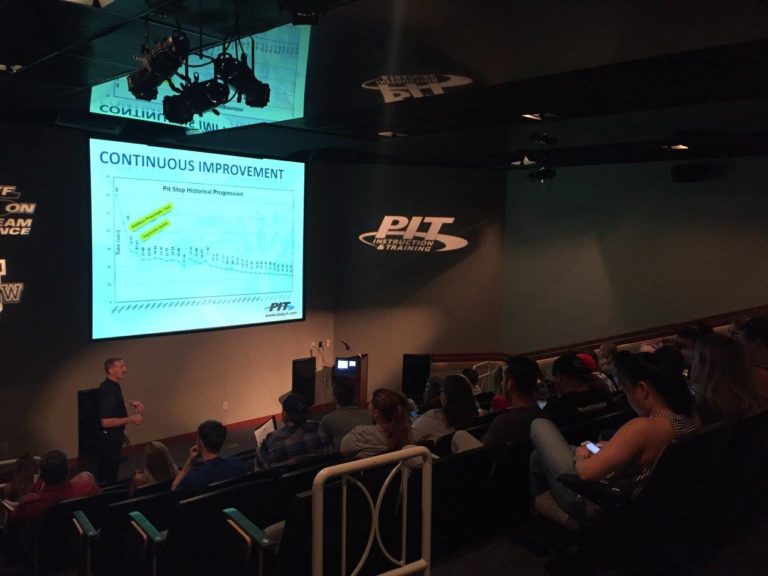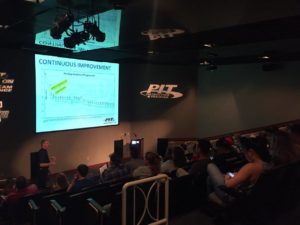 We were part of a faily large group, so they broke us up into 6 different teams. Safety is of paramount importance, so we were setup with a suit, gloves, hearing, and eye protection. They led us out to pit row, where we were given live demonstrations of each position and the chance to practice a couple of times to get a feel for how the equipment feels. These are real NASCAR tires and wheels, real gas can (no gas), even the jack is authentic. I've always wanted to try my hand at the air-powered wrench and I was able to fill that spot for the team. Team 2, Lightnings Lugs, rear wheel changer… yeah that's me. Like I said, there were 6 different teams, so of course there had to be a little competition going. There are 3 cars set in position, so 3 teams at a time can run the drill. They lined us up in place and blew the whistle to start. Now on the first attempt all you want to do is be accurate and not make a big mistake. Slow and steady they said. Sure enough we all started moving into our positions and executing our assigned roles. It's really a fast paced ballet with every move choreographed. Wrench on, lugs off, tire off to the right, new one handed in from the left, position on hub and power the lugs back on. Jump up, kneel down, lugs off, wait for jackman, tire off to the right, new tire in from the left, lugs on, back away. In about the time it took to read that, a professional pit crew can change 4 tires without gas. Our apprentice crew of first timers took a little under 2 minutes on our first attempt. All told not a bad time they said. We head back to the garage to review the video with our crew chief. This really helps because we can see exactly where we can save steps and be more efficient. We were able to perform another 3 pit stops and in the process our time went down to just over a minute. We may not have been ready for Charlotte Motor Speedway but that was some serious improvement. Our team may not have won (congratulations Children of the Forest,) but we all had a fantastic time.



PIT is an active pit crew training school with graduates working for major teams, however they also use the pit experience as a way to teach team building, build improvement processes, and teach lean concepts to numerous businesses including the U.S. military. If you ever have the opportunity to participate in their program I would highly recommend it.

Now I had a better understanding of what happens on pit row, but what about on the track? Thanks to our Disney*PIXAR hosts and Charlotte Motor Speedway I was going to find out. Officially called the "NASCAR Racing Experience" you are able to ride as a passenger with a professional racing instructor in a real NASCAR race car. For 3 laps, at speeds of 175 mph or more, you get the chance to really feel what it's like for the driver athletes who race for a living. I'm a driving enthusiast. My motorcycle is a performance model, my car is as well. I've been on closed tracks where you can "open it up" for a bit. Nothing, and I mean nothing compares to the feeling of that NASCAR dropping in to turn 1 at speed.


The engine is roaring and you hear the small pieces of track debris hitting the body, reminiscent of scenes in "Cars 3". The driver gets into the groove and your body is just pushed to the right against the 5-point harness. Everything you've done before tells you that the car is going to spin out, but the driver, aerodynamics, and racing tires do their jobs and you simply run through until you exit onto the back straight. Charlotte is a tri-oval, so this dance happens 8 more times until before you know it you're pulling in to pit row and the experience is over. A fistbump of thanks to my driver and then it was time to work my way back out of the car.


The Experience is offered in many different levels and price points, from 3 lap ride alongs, to full 40 lap solo racing sessions. It's probably a good thang that I don't live anywhere near the Charlotte area, because I would be spending lots of time at the track. If you're at all interested in racing, or would like to give someone a gift that they will forever remember, the NASCAR Racing Experience is unforgettable.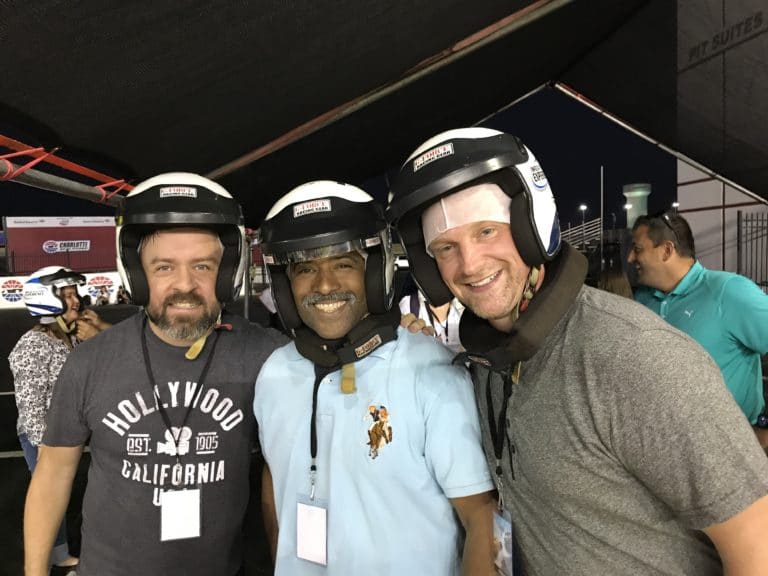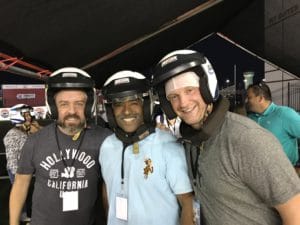 PIT Instruction and Training
www.visitpit.com
156 Byers Creek Road
Mooresville, NC 28117
[email protected]
Tel: 704-799-3869
Fax: 704-799-3871
Charlotte Motor Speedway
www.charlottemotorspeedway.com
5555 Concord Pkwy. South
Concord, NC 28027
704-455-3200