I have partnered with Life of Dad and Pampers for this promotion.
When a baby is born, a dad is born. This Father's Day, Pampers celebrates that incredible feeling little ones bring to the hearts of dads through unconditional love.
I think I'm a pretty good dad… I try to gut check things but while there are books written on being a dad, its still all gut.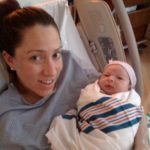 Without Suzanne in my corner, I'm really not sure I'd be half the dad I am today without her loving support.  First Suzanne gave me the best gift in the world of be coming a dad… Here are the first shots from the hospital bed of Marc being held by Suzanne after he was born. ... [ read more ]