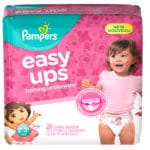 Welcome to the world of toddlers that amazing time when they're still soooo cute and the things that come out of their mouth are heart meltingly cute too. There just one thing thats not fun about this time of raising a child, which is the potty training time.
I'm not a fan of changing diapers (but I've still changed my fair share!). I really dont love potty training, maybe its because everyone has an thought of which way is the best, or telling you to attempt to potty train way to early.
Our middle child Harper is now 3.5 years old and we are well away its past the point in time she should be potty trained or at the very least attempting to train.  She's been in diapers long enough.
Pampers has an awesome website with amazing resources to help you decide if now is a good time to start potty training with your child.  Kids will love the new Dora and Thomas the Train designs, and Hello Kitty will be hitting shelves soon enough.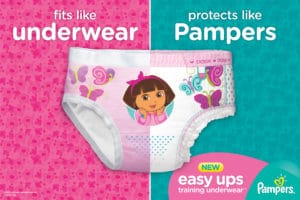 The new Easy Ups look and feel like cotton underwear. With the 360 degree stretch waist, they are easier to get on and off. If there is an accident don't worry! Parents can easily tear away the sides and change their kids. Easy Ups are the only training underwear with Extra Absorb Channels to help prevent leaks day and night!
Pampers is offering a coupon that you can print at home for $2 off 1 pack of new Pampers Easy Ups Training Pants. Help make the potty training process easy and more affordable with this high-value coupon. Here's how to save: You can get the Pampers Easy Ups coupon. Just print, shop, and save.