I have partnered with Life of Dad and Pampers for this promotion.
When a baby is born, a dad is born. This Father's Day, Pampers celebrates that incredible feeling little ones bring to the hearts of dads through unconditional love.
I think I'm a pretty good dad… I try to gut check things but while there are books written on being a dad, its still all gut.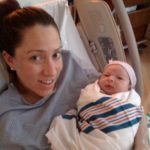 Without Suzanne in my corner, I'm really not sure I'd be half the dad I am today without her loving support.  First Suzanne gave me the best gift in the world of be coming a dad… Here are the first shots from the hospital bed of Marc being held by Suzanne after he was born.
I wasnt always a comfortable in those first few weeks… I'm not sure many first time dads are comfortable. I remember the bris, first I was a nervous wreck… dozens of friends and family members in a room celebrating the birth of my son and well the actions that are done during a bris. Suzanne was nervous (maybe the only one more so than me)… but she was a champ… me on the other hand I didnt have a clue…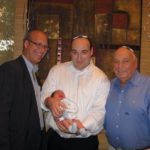 I got to take the first photo of four generations, my son, my father, and my grandfather in a photo.  Since this photo was taken my grandfather has passed on, but thankfully he was able to see me grow into the man I am today… see his 3 great grandchildren and know that Marc got to know him.
Fatherhood is a journey… hopefully you grow and learn things about yourself, about the world around you, maybe when it comes time for homework maybe a new trick or two (if you have any for common core – I'm all ears)….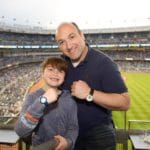 On this father's day remember… we all were nervous, we all made mistakes, we all have stuff to deal with… but on this one day of the year hopefully you can block some of that out and just enjoy being a dad. Cause the time really does fly… in a blink of a year its almost been 9 years.
Pampers has released a new #ThanksBaby video that captures the amazing relationship that is created between a dad and his baby when a baby is born and the beautiful journey of fatherhood begins.
Pampers honors dads for just being dads and thanks them for all the amazing things, big and small, they do to help little ones have a better, loving, more fulfilling life.
Please join us by tweeting why you are most thankful for baby with the hashtag #ThanksBaby.
For more than 50 years, moms and dads have trusted Pampers to care for their babies' happy, healthy development. Pampers offers a complete range of diapers, wipes and training pants designed to provide protection and comfort for every stage.
Visit www.pampers.com to learn more about Pampers products, join the Pampers Rewards program, and find ideas and information to help your baby get the most out of love, sleep and play.
Disclosure: I have partnered with Life of Dad  and Pampers for this promotion.