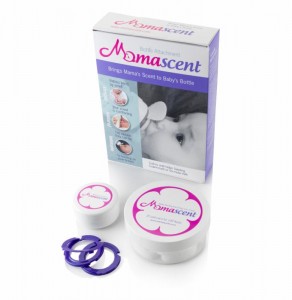 Mamascent ™, a one-of-a-kind bottle attachment designed to bring a mother's unique scent to her infant's milk bottle, is now available in the United States and Canada on Amazon.com. Mamascent ™ is ideal for parents who mix breast and bottle-feeding, to maintain the olfactory bond between mother and child. Launched in 2013, the UK-designed and made product is already winning rave reviews by mothers and caregivers across England and is now available in North America for the first time.
Mothers simply place a comfortable Mamascent™ pad inside their bra and wear it for approximately three hours. When the baby is ready to feed, the mother or caregiver can attach one of the pad's five petals to an easy-to-use fastening clip that fits most standard-sized baby bottles. Whether being fed by mother, father, grandparent, nanny or babysitter, the baby smells the scented petal, thus replicating the sensory experience of breastfeeding. View a brief video on how to use Mamascent™ at http://mamascent.com/ .
"When using Mamascent™, babies feel the comfort of their mother even if someone else is feeding them. The baby is naturally soothed and calmed as this creates the closest sensation to feeding on the breast," said Mamascent™ inventor Dr. Robert Österbauer. "Babies bond by smell and can identify their mother's scent immediately after birth, generating a unique attachment to her. Clinical research suggests that the unique scent from around a mother's breast is vital to the feed as it contains pheromones that guide the baby to the breast and promote sucking."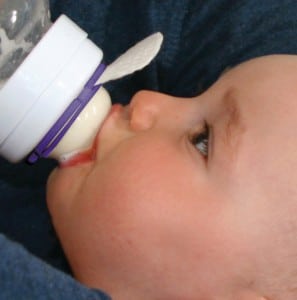 Mamascent™ was developed by Dr. Österbauer when he noticed that his sister was experiencing great difficulty in trying to get her son to switch from breastfeeding to expressed milk bottle-feeding. Holding a PhD in Olfactory and Cognitive Science, he theorized that his nephew would accept the bottle if it was associated with his mother's scent. Through much experimentation, Dr. Österbauer devised what is now Mamascent™. Using Mamascent™, his nephew learned to alternate happily between breast and bottle, regardless of who was feeding him.
Mamascent™ includes twenty scent pads (each with five petals), one travel container (where scented petals can be stored until feeding time) and two fastening clips that attach to most standard-shaped bottles. Retailing for $24.95, one Mamascaent package accommodates 100 feeds. It is now available at  http://www.amazon.com/Mamascent-Bottle-Attachment-Complete-Feeds/dp/B00F8LJIJA .
Mamascent™ is a trademark of Trigger Scents Ltd. For more information and the scientific background, please visit our website: www.mamascent.com .
Although Mamascent™ provides many of the sensory benefits of breastfeeding, it is not intended as a replacement. Mamascent™ is for mothers who want the best feeding experience when a bottle has to be used.