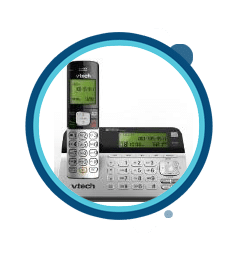 Everyone talks about cell phones – I certainly spend a great deal of my time looking for the latest and greatest… but the home phone which many people still have are alive and well – recently we've been having some dropped calls and I needed to get the home phone up and running. I had the ability to review the VTech CS6859-2 (yah the name isnt sexy) but this 2-Handset Cordless Answering System with Caller ID/Call Waiting is just what the doctor ordered. The price was right less then $60 and had all the features I needed…
Digital Answering System – With up to 14 minutes of recording time, the digital answering system grabs calls when you can't.
Caller ID/Call Waiting – Know who's calling with Caller ID/Call Waiting by storing 50 calls.

Handset

displays the name, number, time and date of incoming calls.
Full Duplex Handset and Base Speakerphones – Enjoy a

speakerphone

that can keep up with your calls. Increase participation by allowing both ends to speak—and be heard—at the same time for conversations that are more true to life.
Backlit cordless handset keypad and display – The entire keypad illuminates along with the LCD screen, allowing for easier viewing in dim light.
ECO Mode power-conserving technology – Power-conserving technology manages consumption for optimal battery performance.
Quiet Mode – Silence the ringer on the handset and base unit immediately, or for an extended period of time.
Just to name a few… the biggest one for me is the full duplex speakerphone – you might be asking yourself what the heck is that? or I think I had a full duplex 28.8 modem back in the day… its the ability to talk into the phone and listen/hear the other person at the same time (you know, like you're actually having a conversation with them) which is more than I can say for my iPhone sometimes.
Our friends from VTech are super excited about their new models over at Walmart…. so we're giving away both the phone and a $100 giftcard to walmart.
How to win it… Contest ends 11:59pm EST. March 20th, 2014.
Leave a comment why you want to win a brand new VTech phone and a $100 Walmart Giftcard! and please include some method for us to contact you in the comment (twitter or email).
You get 1 extra entry for tweeting about this contest (you can do this daily). Must contain the following information: @VTechPhones  @dadarocks – http://dad.am/1ifyWGq  and you must also comment with the link to your tweet.
Example: I want to win a @VTechPhones phone & $100 giftcard to @Walmart from @dadarocks – http://dad.am/1ifyWGq  #giveaway
You get 1 extra entry for following @dadarocks on twitter – www.twitter.com/DaDaRocks You must comment that you're a follower.
You get 1 extra entry for becoming our FAN on facebook – www.facebook.com/DaDaRocks You must comment that you're a fan.
You get 1 extra entry for liking this page on facebook (like button at the top of the post NOTE: you must be signed into facebook for it to work!)
You get 1 extra entry for G+ this page on plus.google.com (click on the little G+ icon below) You must comment that you have G+ it.
You will have 24 hours to reply before we pick another winner!
Disclaimer: VTech supplied the prizes for this contest and it is limited to the USA.