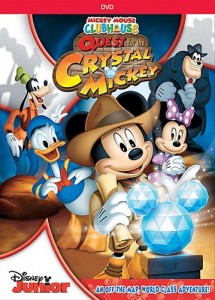 Out on DVD for the younger kids is Mickey Mouse Clubhouse Quest for Crystal Mickey 
Join Mickey, Minnie, Pluto and all their pals in the newest Clubhouse crusade. When the legendary Crystal Mickey goes missing, Mickey and friends go on an adventure to save the Clubhouse from losing its magic. Grab your hat, buckle your seatbelt, and get ready to embark on a thrilling adventure in "Mickey Mouse Clubhouse: The Quest for the Crystal Mickey!"
There's no time to lose after greedy Plunderin' Pete snatches the legendary Crystal Mickey statue from the Clubhouse. Without this sparkly statue's magic, the Clubhouse will disappear forever! Can the world's most extraordinary hero "Kansas City Mickey," get the magical statue back in time? Only with help from young viewers at home…and the right Mouseketools can Mickey journey across the Sandy Desert, brave the Rushing River and make his way through the Hidden Jungle. But watch out for Pete's trickiest traps!

Looking for a movie night for the older kids is Oz the Great and Powerful
When Oscar Diggs (James Franco), a small-time circus magician with dubious ethics, is hurled away from dusty Kansas to the vibrant Land of Oz, he thinks he's hit the jackpot. Fame and fortune are his for the taking. That is until he meets three witches: Theodora (Mila Kunis), Evanora (Rachel Weisz) and Glinda (Michelle Williams), who are not convinced he is the great wizard everyone's been expecting.  Reluctantly drawn into the epic problems facing the Land of Oz and its inhabitants, Oscar must find out who is good and who is evil before it is too late.  Putting his magical arts to use through illusion, ingenuity and even a bit of wizardry, Oscar transforms himself not only into a great wizard but into a better man as well.
And for those that love the movie here are some great downloads that you can entertain the kids with…