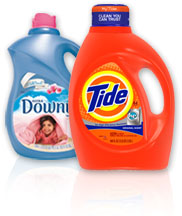 I know sooo many dads that dress up their little princess in the same dresses daily.  Between the tea parties and just running around playing soccer in their little princess dress…. its those moments that make daddy daughter time great!
What are those moments in your life? I want to hear about them – leave a comment here – go on twitter use hashtag #DadsWay
Everyone has a story that describes how his or her dad is truly unique. If you would like to help Tide and Downy celebrate dad's way this month, go tell a story about your dad on Twitter using the hashtag #DadsWay. For every tweet sent out using #DadsWay, Tide and Downy will donate $1 to the National Fatherhood Initiative.
These days with a baby at home we're using Tide Free & Gentle which is dye and perfume-free. It removes more residue from dirt, food, and stains than the leading free detergent so they say… I'm pretty happy with the level of clean we're getting on all those spit up on baby clothes.
This post is sponsored by Tide and Downy.