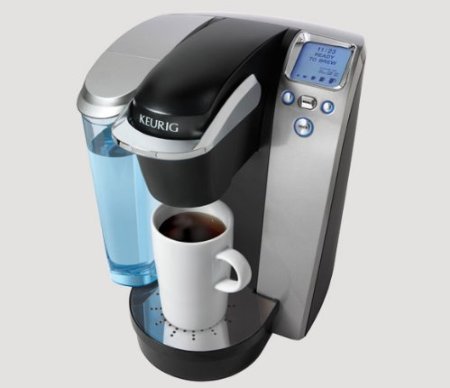 Pretty much everyone loves Coffee and those that dont love Coffee love Tea… Well the K-Cup system all that and more… The feature I think is great is for those that want decaf versus those that want a little more pick me up.  It takes less then a minute to make a cup of coffee so this is great for the getting up and going for morning or for having guest over. Sounds good? check out the Keurig K75 Platinum Brewing System.
The Platinum Brewing System brews a perfect cup of coffee, tea, hot cocoa or iced beverage at the touch of a button. With an award-winning design, this brewer features a blue, backlit LCD display that allows you to program water temperature, set the digital clock, Auto On/Off and your favorite cup size. With the choice of five cup sizes, the Platinum brewer offers a removable drip tray to accommodate travel mugs.
Features:
Fully Programmable
Choice of 5 cup sizes (4 oz., 6 oz., 8 oz., 10 oz.

and

12 oz.)
Removable 72 oz.

water

reservoir
Quiet Brew Technology
Energy Savings Mode – Auto On/Off
Includes water filter handle and 1 charcoal filter
Overcouse if you want to add more to the gift you can buy a sampler pack of k-cups so you know which direction you want to head in.  Additionally you add a Carousel Tower. Lastly if you're super picky about your coffee there is a reusable pack your own k-cup which I hear good things about too but that just what I hear.