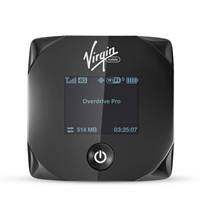 If you're like me you had cell contracts – right?! 2 years for what? Thats why I really like the Virgin Mobile service which offers contract free options. Bottom line is for $35 a month you can rock the 4G Data on up to 5 devices that can connect to the hotspot. Which is great for traveling in long car rides with my son who loves his iPad and streaming videos from Nick Jr.'s new app.
Sierra Wireless Overdrive Pro 3G/4G mobile hotspot from Virgin Mobile
Looking for a contract-free option to connect to the internet while traveling and on the go? Virgin Mobile now offers  "Pay for the day" access or monthly  3G/4G Broadband2Go plans. The Overdrive Pro 3G/4G mobile hotspot connects up to five Wi-Fi enabled devices, making it ideal for people on-the-go. The compact device has top battery strength and a 1.7-inch LCD screen that makes setting up a cinch. It also offers a microSD slot for up to 32GB of shared network storage.
http://www.virginmobileusa.com/shop/mobile-broadband/broadband-2-go/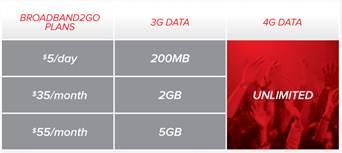 My review: I've had this unit for 3 months now and I have used it a lot – more then you would think… Whenever I have spotty service with my iPhone – Virgin Mobile was connecting just fine and got me online and able to upload photos, check out facebook and most importantly get me back on to twitter.  The data speeds are amazing I was able to stream live tv without a hiccup and my son downloaded a new tv show from iTunes to his iPad. I've connected 4 devices at one time to the device and speeds were still holding up strong.
This is a great gift for dads who love tech. For the dads that always is wanting to look something up on his iPad or other tablets but doesnt mobile internet connection. For the dads that love long car rides with quiet kids cause they're surfing the web (well thats a plus for everyone).