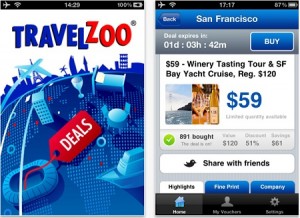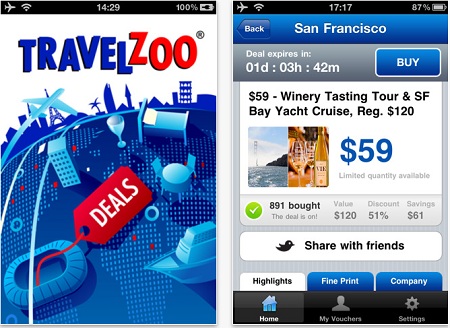 As you might know I was recently on a trip to LA and let me tell you something traveling isnt cheap. Every once in a while you can find an awesome deal like this one http://www.travelzoo.com/hotels/los-angeles/-215-Chic-Hollywood-4-Star-Hotel-w-Upgrade-Reg-395–1103197/ Not shabby staying in a 4 star hotel. Just incase you're looking for a blogworld LA hotel room this is a great deal.
That deal was featured in The Travelzoo Top 20 is the definitive list of the week's 20 best travel, entertainment and local deals that have been evaluated by Travelzoo's deal experts and rigorously tested by the Travelzoo Test Booking Center. www.travelzoo.com/top20
The latest item from Travelzoo is the Travelzoo App. Travelzoo launched their first-ever free mobile App last month. The app allows users to find the best travel, entertainment and local deals. Travelzoo is updating very shortly to version 1.1, which will include the launch of the European iPhone App in the USA, UK, Canada, Spain, France, and Germany and will allow users to purchase international deals directly from their iPhones. Download: http://itunes.apple.com/us/app/travelzoo/id451314284?ls=1&mt=8.
With the Travelzoo app you can:
Find great travel, entertainment and local deals.
Purchase deals directly from your phone.
View and use your vouchers directly from your phone.
Get inspired using our Photo Mosaic, Deals on Map and Deal Roller.
Just the other day they offered a great brunch spot in NYC with unlimited brunch drinks – you know the bloody mary's, mamosas, ect for under $40 a person… you might be saying ehh thats still pricey but normally this brunch spot charges $70 for the same package. The app is straight forward, you choose your location, you select the deal and you can even see how many people have purchased the deal.