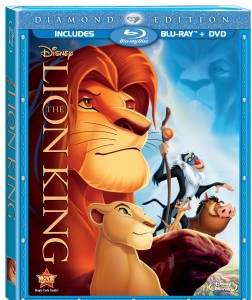 The Lion King is available now for the First Time Ever on Blu-ray Hi-Def and Blu-ray 3D!
It was just released TODAY, October 4th, 2011! [Amazon]
"An unforgettable story, breathtaking animation, beloved characters and award-winning music sets the stage for 'The Lion King', a Disney classic that follows the adventures of Simba, the feisty lion cub who 'just can't wait to be king.' But his envious Uncle Scar has plans for his own ascent to the throne, and he forces Simba's exile from the kingdom. Alone and adrift, Simba soon joins the escapades of a hilarious meerkat named Timon and his warmhearted warthog pal, Pumbaa. Adopting their carefree lifestyle of 'Hakuna Matata,' Simba ignores his real responsibilities until he realizes his destiny and returns to the Pride Lands to claim his place in the 'Circle of Life.'"
The Lion King first debuted in 1994 but returned to the Disney Vault in 2004 and has been unavailable since (other then ebay that is)! It is finally out from the Disney Vault but for a limited time only. Be sure to grab this title while it is available! Plus if you saw in the movies during its two week run in 3-D this is the one for you.
We all grew up saying Hakuna Matata ok well at least I did… and now I just use it as a passing phrase (really as a joke) but that didnt stop my family from running to see this with my son.  I'm not going to cover plot points 101 but this is a classic disney movie for a reason it has a dark twist (death) and a scary villain (scare). Make sure your children are old enough to handle those two elements and then pop the popcorn cause its time to watch one of the classics.  For me it was always a toss up between this movie and Aladdin (also usually the winner cause of genie) are my two all time favorites.
Here's something cool to note on the heels of the phenomenal success of The Lion King 3D – which will cross the $80 million mark at the domestic box office today – The Walt Disney Studios has announced limited theatrical engagements for four of its classic films for the first time in 3D. The following titles from Walt Disney and Pixar Animation Studios will be released in 2012 and 2013:
Beauty and the Beast – January 13, 2012
Disney•Pixar's Finding Nemo – September 14, 2012
Disney•Pixar's Monsters, Inc. – January 18, 2013 (Monsters University, a prequel to the original film, arrives in theaters in Disney Digital 3D on June 21, 2013)
The Little Mermaid – September 13, 2013
How to win it… Contest ends 11:59pm EST. October 11th, 2011.
1 will win the DVD! Tell us your favorite character of Lion King is and please include some method for us to contact you in the comment (twitter or email).
You get 1 extra entry for tweeting about this contest (you can do this daily). Must contain the following information: @dadarocks – http://dad.tc/nx2QqU and you must also comment with the link to your twitter message.
Example: I want to win the @disney #LionKing DVD from @dadarocks  –http://dad.tc/nx2QqU
You get 1 extra entry for following us on twitter – twitter.com/dadarocks
You get 1 extra entry for becoming a FAN on Facebook – facebook.com/DaDaRocks you must comment that you're a fan
You get 1 extra entry for recommending a friend to become a Fan on Facebook – facebook.com/DaDaRocks they must comment that you sent them and you must comment here for the entry
You will have 24 hours to reply before we pick another winner!
Disclaimer: Thanks to Disney for provided the DVD for this raffle