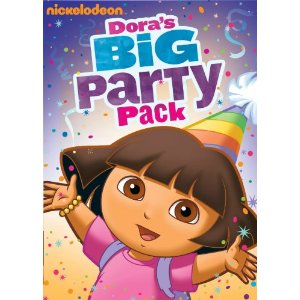 Prepare to laugh and celebrate with the release of the new DVD box set Dora the Explorer: Dora's Big Party Pack! [Amazon] It's a non-stop party with a piñata, surprises and more!  The box set also includes a Dora and Diego cake recipe card (while supplies last). Created by Nickelodeon Home Entertainment and distributed by Paramount Home Entertainment, Dora the Explorer: Dora's Big Party Pack was released on DVD on Tuesday, July 12, 2011, for the suggested retail price of $24.99.
Dora the Explorer: Dora's Big Party Pack Episode Synopses:
Dora the Explorer: Dora's Big Birthday Adventure
Dora's Big Birthday Adventure
A twisting wind has blown Dora and Boots into Wizzle World, a land located in the Magic Storybook.  Dora and Boots can't jump out of the Magic Storybook without first taking Dora's crystal to the Wishing Wizzle so he can wish them back home in time for Dora's birthday party with all her family and friends. The episode guest stars Rosie Perez, John Leguizamo and Hector Elizondo.
Dora Helps the Birthday Wizzle
Dora is reading a storybook about a Birthday Wizzle who could make birthday wishes come true with his magic wand.  Today was his birthday so it was his turn to make a wish, but a wind came in and blew the wand out of the book.  Dora must jump into the book and bring the wand back to the Wizzle so he can make his wish.
Wizzle Wishes
Dora and Boots meet a cute little Wizzle who lost his bag of wishes and can't get home.  Our heroes set off in search of the lost wishes, but their friends keep finding the wishes first and their wishes get everyone into trouble.
Dora the Explorer: Super Silly Fiesta
Super Silly Fiesta
Dora and Boots are invited to the Big Silly Chicken's Super Silly Fiesta.  The Big Red Chicken loses the cake for his party so Dora and Boots set off to save the fiesta.
Boots' Special Day
Today, Boots gets to do anything he wants because it's his special day!
Stuck Truck
When Ice Cream Truck gets stuck in the muck at Play Park, Dora and Boots are off to the rescue.
The Big Potato
Benny the Bull finds a magic wand and turns himself into a potato by mistake.  It's up to Dora and Boots to bring their potato friend back to the Young Wizard so that he can change Benny back into a bull.
Dora the Explorer: It's A Party!
Daisy, la Quinceañera
It's Dora's cousin Daisy's quinceañera!  The party can't start until Dora and Boots teach everybody the mambo.
The Big Piñata
Dora and Boots are trying to win the Big Piñata.  They need to collect ten yellow tickets by playing carnival games.
Surprise!
It's Boots' birthday, but Benny the Bull is stuck on a hot air balloon that's leaking and floating toward Crocodile Lake. Dora and Boots rush off to rescue their friend.
The Fix It Machine
Boots has a hole in his boot but Dora knows what to do.  The Super Duper Fix-It Machine can fix it right up!
Dora the Explorer: Dora's Big Party Pack Fast Facts:
Street Date: July 12, 2011
Catalogue: 145304
DVD SRP: $24.99
DVD Running Time:  Approximately 291 Minutes
Special Features:

Dora's Big Birthday DVD Game (Dora's Big Birthday Adventure)
Dora's Super Silly Search Game (Super Silly Fiesta)
Dora's Present Search (It's A Party!)
Nicktrition Tips for Parents (It's A Party!)
Baby Nick Jr. Music Video (It's A Party!)
How to win it… Contest ends 11:59pm EST. July 25th, 2011.
2 Lucky people will win the Dora DVD Box set! Tell us your favorite character on Dora is and please include some method for us to contact you in the comment (twitter or email).
You get 1 extra entry for tweeting about this contest (you can do this daily). Must contain the following information: @NickelodeonDVD @dadarocks – http://dad.tc/n6ReTV and you must also comment with the link to your twitter message.
Example: I want to win the #Dora the Explorer #BigPartyPack DVD Set from @dadarocks & @NickelodeonDVD – http://dad.tc/n6ReTV
You get 1 extra entry for following us on twitter – twitter.com/dadarocks
You get 1 extra entry for following @NickelodeonDVD on twitter –twitter.com/NickelodeonDVD
You get 1 extra entry for becoming a FAN on facebook –facebook.com/DaDaRocks you must comment that you're a fan
You will have 24 hours to reply before we pick another winner!
Disclaimer: NickelodeonDVD provided the DVD for this raffle