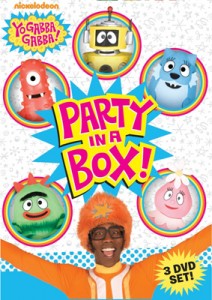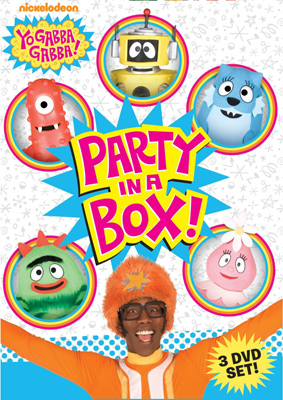 Yo Gabba Gabba: Party in a Box [Amazon] is a three-DVD box set includes Birthday Boogie, Clubhouse and Dancey Dance Bunch so get ready to explore everything from animals and new foods to birthdays and dress-up.  Special guests in this collection include Erykah Badu, The Ting Tings, and Elijah Wood. Additionally, Biz Markie and Mark Mothersbaugh appear in their recurring segments.  Created by Nickelodeon Home Entertainment and distributed by Paramount Home Entertainment, Yo Gabba Gabba: Party in a Box will be released on July 12, 2011, and sold for the suggested retail price of $24.99.
Yo Gabba Gabba: Party in a Box Episode Synopses:
Yo Gabba Gabba: Birthday Boogie
Birthday
Brobee has a surprise birthday party and everyone makes presents for him.
Guest Stars:  Melora Hardin, The Ting Tings
Dress-Up
DJ Lance brings a costume box and everyone plays dress up.
Guest Star: Little Ones
Talent
The Gabba Gang learns that everyone has different talents and that practices makes perfect.  Everyone uses their talent to make something special.
Guest Stars: Amar'e Stoudemire, Hot Hot Heat
Ride
The Gabba gang has fun riding toys.  Toodee goes surfing, Muno rides a skateboard, Plex go-carts, Foofa rides a bike with training wheels, Brobee rides a razor and DJ Lance roller-skates.
Guest Stars:  Dean & Britta
Yo Gabba Gabba: Clubhouse
Clubhouse
Brobee and Muno build a boy's clubhouse but won't let Foofa and Toodee play.  Meanwhile, DJ Lance and Plex help Foofa and Toodee build an awesome treehouse where everyone can play.
Guest Stars:  Erykah Badu, The Sounds, Mark Mothersbaugh
Adventure
Muno and friends travel through a jungle under Gabba Land and find the golden treasure.
Guest Star: The Killers
Summer
All the characters in Gabba Land enjoy the outdoors and the happiness of summertime.
Guest Star: The Aquabats
Animals
Foofa loves animals and she follows an animal to learn more about it.  The Gabba gang also discovers some silly animals that only could be found in Gabba Land.
Guest Stars:  Jack McBrayer, Paul Scheer, Jimmy Eat World
Yo Gabba Gabba: Dancey Dance Bunch
Friends
The characters learn how to have fun with friends and to appreciate and respect each other.
Guest Star: Mya
Eat
The characters learn the importance of eating vegetables and healthy meals, trying new things and cleaning up after themselves.
Guest Star: Elijah Wood
Dance
New dances are performed by the characters as they learn about manners and about the importance of apologizing.
Guest Star:  Hector Jimenez
Happy
The characters learn how to handle moments of sadness and how to use hugs as a way of expression.
Guest Star: The Salteens
Yo Gabba Gabba: Party in a Box Fast Facts:
Street Date: July 12, 2011
Catalogue: 145314
DVD SRP: $24.99
DVD Running Time:  Approximately 297 minutes
Rating: Not Rated
How to win it… Contest ends 11:59pm EST. July 18th, 2011.
2 Lucky people will win the Yo Gabba Gabba Party in a Box DVD Box set! Tell us your favorite character on Yo Gabba Gabba is and please include some method for us to contact you in the comment (twitter or email).
You get 1 extra entry for tweeting about this contest (you can do this daily). Must contain the following information: @NickelodeonDVD @dadarocks – http://dad.tc/qtNH6O and you must also comment with the link to your twitter message.
Example: I want to win the @yogabbagabba #PartyInABox DVD from @dadarocks & @NickelodeonDVD – http://dad.tc/qtNH6O
You get 1 extra entry for following us on twitter – twitter.com/dadarocks
You get 1 extra entry for following @NickelodeonDVD on twitter –twitter.com/NickelodeonDVD
You get 1 extra entry for becoming a FAN on facebook –facebook.com/DaDaRocks you must comment that you're a fan
You will have 24 hours to reply before we pick another winner!
Disclaimer: NickelodeonDVD provided the DVD for this raffle