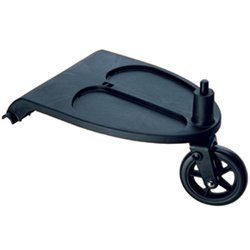 Everyone once in a while Marc doesn't want to sit in his stroller, that's what we said before he turned two… now we're seeing that more and more that he just doesn't want to sit. In comes the Bugaboo Wheeled Board [Link] (or skateboard/wheelies as I usually call them) are usually designed to take a normal single stroller and make it work for two, one being a baby and a toddler who stands.  It just hit me if Marc doesnt want to sit, because no problem you can stand and just catch the ride while we're pushing the stroller.
This works great… While Marc's still a little young to do this all the time, he's is  sometime good enough I get to test my toys with him. He's just too cranky to even stand and really then it becomes daddy's job to hold him.  We have a Bugaboo Cameleon, its like a driving a Rolls-Royce verse a honda around the streets of NYC. There is no question its an amazing walking/city stroller.  If you have 2 children where one child is in that 2+ years old, you'll be able to really keep your stroller and use a wheeler board.  Otherwise you be looking to the wide world of double strollers but coming soon if the rumors are right (and I think they are) will be the first double stroller from Bugaboo being called the Donkey.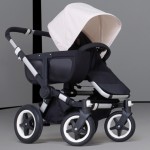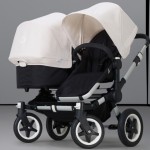 We learned early on there are better strollers to travel with but none in terms of the comfort for the little walk around the city.  The Wheeled board is made of the same quality you'd expect from bugaboo. You can use this with the bassinet or with the chair and because the handle bars switch side in effect changing which way the wheeled board is facing.
I've really enjoyed this product and totally wish they had these when I was a kid… would have saved me alot of steps growing up but really it work on balance and listening skill for the child. The pricetag isn't cheap but in many ways is much cheaper then buying a new stroller and in this case you're getting what you pay for…