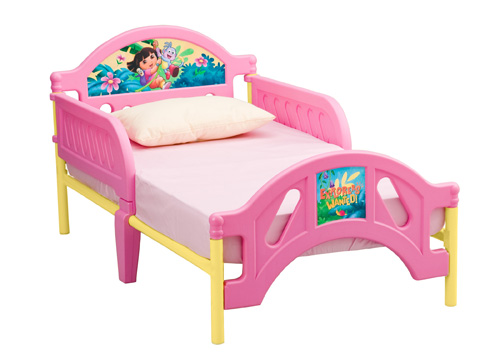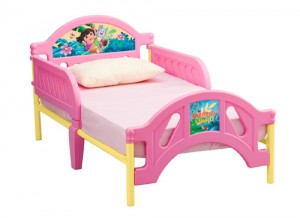 Dora is 10 years old… wow Happy Birthday Dora – I'll totally admit it when I first heard of this cartoon ten years ago I never thought 10 years later I'd be watching it with my son. Yet here I am watching Dora the Explorer: Dora's Slumber Party [Link] a compilation DVD containing six of Dora's bedtime adventures. Sure my child's first complex word was backpack between that and map its given him hours of enjoyment – I really also hope its teaching him some basics of a second language because I certainly know I'm barely ok with English.  The DVD of Dora's slumber party is cute and is pretty good tv for before bed as it contains the theme its time for sweet dreams. 

With that said Dora has come into my house while we are thinking about moving Marc into a toddler bed, we've been thinking about it for a while since he climbed out of the crib. After everyone (and I mean everyone) said it was crib tent time and not toddler bed thats the route we took. He goes to bed in his crib but wakes up freaks out and wants out to come sleep in between me and mom (ahhhh).  I figure this giveaway might help a toddler sleep in a toddler bed because I feel like all kids start to come into shows at a similar point, so if we're thinking about it maybe you are too.

Celebrate Dora's 10th Anniversary Giveaway!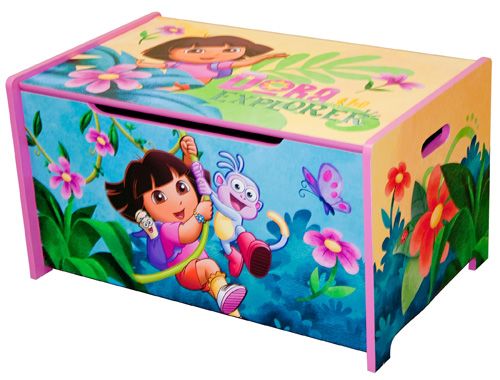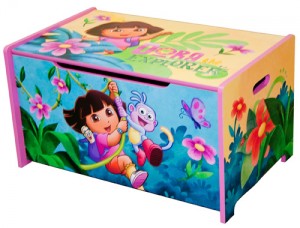 Can you believe Dora is now 10 years old?! Dora and friends have been teaching kids Spanish, exploring their surroundings, sharing and helping kids learn through this unique one of a kind show. In partnership with Delta Children's Products – we are celebrating Dora! Here's your chance to get a hold of the exclusive Dora 10th Anniversary Room Set for your toddler.
The room set includes a toddler bed, toy box and a 10-piece room décor in a box. This Dora room set will inspire your toddler to keep exploring and learning – just like Dora.
Total retail value: $160.00. All Dora 10th Anniversary products can be purchased at Toys "R" Us, Babies "R" Us, Walmart, and Kmart
We're giving away 1 toddler bedroom set (with DVD) and two runners up will get a DVD.
About the DVD here are the information about the 6 episodes and I would highly recommend it for any Dora fan! It came out Tuesday! I received a screener copy to watch, just in case you're wondering.
Dora the Explorer: Dora's Slumber Party Episode Synopses:
Boots' Cuddly Dinosaur
As bedtime approaches during Dora and Boots' sleepover, Boots can't find his cuddly dinosaur.  The friends realize that Boots' dinosaur must have fallen out of his bag at Play Park earlier that day. In their quest to help Boots find his cuddly dinosaur, Dora and friends put baby animals to sleep by singing a Spanish lullaby, help Benny find all of his stuffed animals, soar through the air in a balloon, and make a wish on their friend Little Star.  With lots of help, Boots finally finds his cuddly dinosaur at Play Park, just in time for bed.
Louder
Every morning Red Rooster must wake the Sun from its deep slumber.  Dora and Boots decide to help Red Rooster get to the Highest Hill so he can wake up the Sun. Along the way the friends practice making lots of noise and wake up the frogs, the boat and the pigs.  With lots of practice, the friends wake the Sun just in time for morning.
The Lost City
Dora and her friends have lost their most precious toys and will do anything to get them back.  The friends discover that toys must go to the Lost City when they are lost, but the city is very hard to find. Dora and Boots embark on an Indiana Jones-like adventure as they race through the Number Pyramid and take a quick shortcut through the Jumbled Jungle.  If they find the Lost City, Dora will get back her lost teddy bear, and all her friends will find their favorite lost toys.
Little Star
As Dora and Boots get ready to make a wish on the first star that appears in the sky, the star falls.  It's now up to Dora and Boots to bring Little Star back home to the Moon, so everyone can make their wish. They will have to take Little Star on a long journey over the Troll Bridge, and past Tico's Tree to help get the star all the way back into the sky.
Song: "Twinkle Twinkle Little Star"
Super Babies' Dream Adventure
As the Super Babies get ready for their nap, the Dream Fairy is nowhere to be found.  The Dream Fairy's Golden Rooster got locked out of the Dream Castle and couldn't wake her up, so she was still a sleep.  The Super Babies decide to wake up the Dream Fairy by embarking on a journey through the Giant's Forest, up to Dragon Mountain and finally to Dream Castle.  When the dream fairy is awoken with her Golden Rooster, she delivers happy naptime dreams for all of the babies.
Dora Had a Little Lamb
Mary had a Little Lamb, but now Little Lamb is lost.  Dora and Boots jump into a big book of Nursery Rhymes to bring Little Lamb back to her best friend, Mary.  Along the way to Mary's House, Dora, Boots and Little Lamb pick pickled peppers with Peter Piper; help the Itsy Bitsy Spider climb up the Water Spout; ride a cow over the Moon; put Humpty Dumpty back together again; and even catch a ride in a motorized bath tub.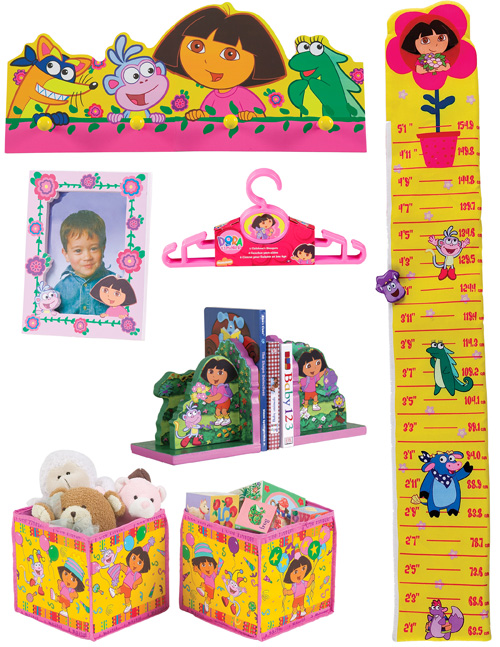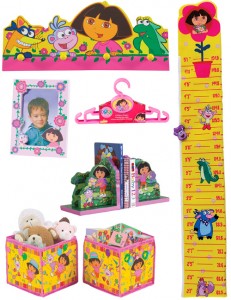 How to win it… Contest ends 11:59pm EST. September 23, 2010.
You must comment telling us your families favorite Dora character, please include some method for us to contact you in the comment (twitter or email)
You get 1 extra entry for following us on twitter – twitter.com/dadarocks
You get 1 extra entry for following DeltaChildren on twitter – twitter.com/DeltaChildren
You get 1 extra entry for tweeting about this contest (you can do this daily). Must contain the following information:
@DeltaChildren @dadarocks – http://bit.ly/9IPyz7  and you must also comment with the link to your twitter message.
Example: I want to win the #Dora Toddler Bedroom from @DeltaChildren & @dadarocks – http://bit.ly/9IPyz7
You get 1 extra entry for becoming a Fan on facebook – facebook.com/dadarocks you must comment that you're a fan
You get 1 extra entry for becoming a Fan on facebook of Delta Children– facebook.com/deltababy you must comment that you're a fan
You get 1 extra entry for subscribing to our Feedburner digest mailing (right side subscribe by email) – you must also comment that you've subscribed
You get 1 extra entry for becoming a friend on Google Connect (right side below facebook box) – you must also comment that you've become a friend
You will have 24 hours to reply before we pick another winner!
Disclaimer: Delta Children is providing the prize for the raffle.