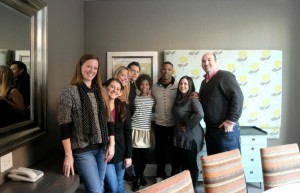 Recently I had the privilege of sitting down with the cast of Annie to talk about the process of making the movie, and it was a blast! After our interview with Cameron Diaz and Bobby Cannavale, who play Miss Hannigan and Guy in Annie, respectively, we got to speak with Quvenzhane Wallis (Annie herself), Jamie Foxx (Will Stacks), and the film's director Will Gluck!
The interview started off with a discussion of Will's feelings on re-making a "classic." He explained that "we wanted to keep what connected with us in the original Annie— the musical and the movie– the story of optimism, hope, never giving up, finding your place in life, and family. That's the feeling we wanted to take and connect with the bones of the great music, and we wanted to make it our own. So as long as we kept those touchstones, we felt that we could go off a little bit and make it what we wanted to do. We felt we did that. We felt that the spirit of Annie comes out."
Jamie added that "If you look at re-makes today, everybody's doing it… It's great to grab a wonderful brand like this and then have a wonderful actress– Quvenzhane is nominated at such an early age, and now she steps into this iconic role– I just thought it was the right time… it seemed really fresh. It's been a wonderful experience."
Continuing with Foxx, who is an incredible singer outside of Annie with a great album of his own, we discussed how he brought his previous experience to the role. He mentioned that "the songs are so great… anytime there's music and you have a person [like Quvenzhane] who can bring the emotional energy and then here comes this iconic music we've listened to for years, it was a fun time." Will Gluck added that "it was a really fun set– there's nothing negative because this message is so positive."
While the set may have been lots of fun, there is also a tremendous emotional impact to taking on an iconic story like Annie, and particularly a role like Annie herself. Noting this, Foxx turned to Quvenzhane Wallis and asked her "Are you ready for this big ride? For the rest of your life, people are going to [say] 'That shaped my childhood' or even grown people: 'I took my child to see the new Annie.' How does that make you feel?" Wallis was all smiles. "It's really exciting. It makes me feel very happy to know that I'm in the newest version that maybe even, like, three-year-olds will know and then when they get older… this is your original Annie."
Whether this is your original Annie or you've been following the story through its various iterations since 1977, you'll love the new take on the classic musical. Read our review, check out our interview with Cameron Diaz and Bobby Cannavale, and be sure to go see Annie the next time you head out to the movies!