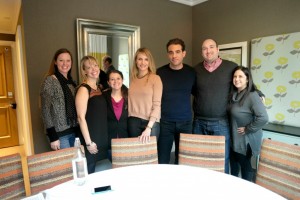 Recently I had the privilege of sitting down with the cast of Annie to talk about the process of making the movie, and it was a blast! First off, we got to speak with Cameron Diaz and Bobby Cannavale, who play Miss Hannigan and Guy in Annie, respectively.
We kicked the interview off with a pretty simple question: what was Cameron and Bobby's favorite part of filming? Without a moment's hesitation, they both answered "Easy Street!" The number, of course, is a classic part of Annie that lays out their characters' scheme to exploit the reward for finding Annie's birth parents by setting up a pair of actors to pose as her mom and dad and collect the money offered by Will Stacks. Bobby in particular seemed to have a lot of fun with the scene, revealing that though dancing "doesn't come naturally" to him, he "did the part to do that number."
If Bobby's hangup was dancing, Cameron's was her fear of singing in front of people. However, just as she conquered her fear of heights by jumping out of an airplane and scaling the face of a thousand-foot tall mountain ("not at the same time," the actress added, chuckling), she similarly faced her vocal worries by "just charging toward it" and having confidence in the professionals handling her. Ultimately, Cameron had a great attitude about her anxieties in the role, sharing her idea that "if you run from fear, it jumps on your back and takes you down. If you run towards it and you jump on it, then you can take it down."
Bobby and Cameron had quite a bit of advice to offer in regard to what Annie taught them about life. Cannavale mentioned confidence as a major trait that the film's rehearsals instilled in him. He explained that the months of training for "Easy Street" in particular prepared him to walk confidently onto the set on the day of the shoot and charge head-on into the number that otherwise would've been difficult for him– and he was even comfortable and prepared to add in extra moves that day, like a dip at the end of the piece, that hadn't been taught to him before!
Diaz also added that her character Miss Hannigan, contrary to the invalidated spinster that the character is typically portrayed as, is more a comment on modern society's obsession with fame, social media and the like. "She never felt that so she doesn't feel validated and loved," and she takes this lack of self-love out on the girls. Cameron spins this into a great lesson for all of us:  "I hope that people realize that they don't need fame, they don't need to be seen by others; they just need to love themselves for who they are, not what they aren't."
As far as lessons from Annie go, Bobby also imparted some wisdom about the character of Annie herself: "I always liked the idea, just as a general theme of the story, that anything is possible as long as you're in the moment– and this little girl is so present and in the moment. She teaches other people who come into her life how to do that, and how we can really take advantage of the opportunities that are in front of us as long as we're in the moment– that's the only way we can see them."
There's plenty to learn from Annie, and lots of fun in the movie to share with your family– it's a perfect choice for this holiday season. Read our review, stay tuned for our interview with Jamie Foxx, Quvenzhane Wallis, and Will Gluck, and be sure to go see Annie the next time you head out to the movies!