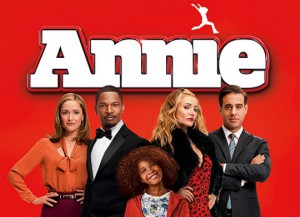 The holiday hit of 2014 is here! Annie has been an American cultural icon since the musical's first production in 1977 (and even longer before that, with the comic strip that serves as its inspiration beginning its run in 1924!) With classic songs like "Tomorrow," "Hard Knock Life," "Easy Street," and "NYC," Annie has undoubtedly left its mark on the Broadway scene, and it's no stranger to the silver screen either– the musical has been adapted to film several times before, but never like this!
Annie, which hit theaters on December 19, takes the classic musical and brings it up to date with new songs, new characters, and a completely modern setting. Starring Quvenzhané Wallis (Beasts of the Southern Wild) as Annie, Jamie Foxx (Dreamgirls, Ray) as William "Will" Stacks, Rose Byrne (Bridesmaids, Neighbors) as his assistant Grace Farrell, Bobby Cannavale (Romance & Cigarettes, Paul Blart: Mall Cop) as Guy, his political advisor, and Cameron Diaz (Shrek, There's Something About Mary) as the wicked Miss Hannigan, this movie's got a star-studded cast that's simply packed with talent!
If you and your family are heading to the movies anytime soon, Annie is definitely a great choice to see together. It's got toe-tapping tunes, a great message, and most of all, heart. You can really tell that this movie was made with love by all involved– the cast's fantastic chemistry is incredibly apparent, and helps Annie to go the extra mile and become a truly special moviegoing experience. You won't want to miss this heartwarming tale of love, hope, and musical joy.
Check out Annie with your family this holiday season, in theaters now!
And be sure to stay tuned to see our exclusive interviews with the director and cast of Annie!