The holiday season's upon us, and with all the toys and games out there, it can certainly be tricky to sort through all the products and pick out a good present. Let us help you figure it all out– check out our top picks for boys' gifts in 2014:
Spin Master Games's Moustache Smash is the matching game that is speedy, silly-looking fun! Each player keeps a moustache held up to their face. As each card is turned over, watch for a card matching your 'stache in either color or shape. See a match, then smash it fast! Be the first to smash the 'stache card and your moustache's suction cup will pick it up and you score a point. But don't smash the wrong card, or you'll pay a penalty and lose two of your cards into the pot. Collect the most moustache cards and you win!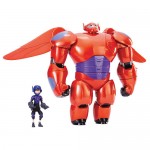 Big Hero 6 Deluxe Flying Baymax, $29.99
Based on the beloved robot Baymax from Disney's Big Hero 6, this massive figure is ready to fly into battle using all his great weapons and features to save the day, just like in the movie. Comes with accessory figure of boy genius Hiro, which unlocks additional special features when connected with Baymax. Boys will have tons of fun re-creating their favorite scenes from Big Hero 6 with this great toy!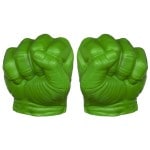 Avengers Assemble Hulk Gamma Green Smash Fists, $10.00
As anyone with boys in their life knows, superheroes are ALWAYS a big hit. With the Avengers Assemble Hulk Gamma Green Smash Fists, your child can become the Hulk like never before! The fists will fit over anyone's hands, from kids to adults. They're awesome fun for anyone who's a fan of the Avengers, and especially anyone who's ever wanted to wield the unlimited strength of the Incredible Hulk and adventure alongside the other Avengers as their most powerful member!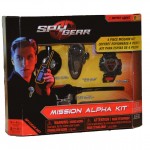 Spy Gear Mission Alpha Kit, $72.99
Has your child ever wanted to be a spy? Help him start up a career in espionage with the Spy Gear Mission Alpha Kit! Featuring four high-tech pieces of Spy Gear, the Mission Alpha Kit covers all the fundamental needs of secret agents. Inside you'll discover Field Agent Walkie Talkies, a Micro Agent Listener, a Micro Agent Motion Alarm and a multi-functional Field Agent Spy Watch. Each tool helps your child complete secret mission as he listens, watches, and communicates with superior stealth. Start your spy game right with the four-in-one Mission Alpha Kit!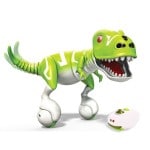 Zoomer Dino, $99.92
If you're an avid reader of DaDaRocks, you've heard of Zoomer Dino before, and there's no time like the present to grab one of these super cool remote-controlled dinos for your little boy! With real dinosaur movements, sounds, and dino-sense responsiveness, Boomer can detect when you're interacting with him. And just like a real dinosaur, Boomer can get angry, spin around, chomp his massive reptile jaws, and roar! Boomer the Zoomer Dino is sure to be a hit this holiday season!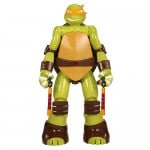 Teenage Mutant Ninja Turtles Colossal 48 Inch Michelangelo Figure, $79.99
Fans of Nickelodeon's Teenage Mutant Ninja Turtles, this one's for you! With nine points of articulation, your favorite ninjutsu-practicing, nunchuck-wielding turtle stands 48″ tall and is ready to foil the Foot Clan no matter what they have planned. He has storage space to hold all of your ninja secrets in a hidden compartment in his shell. With the giant-sized Michelangelo at your side, you can take down Shredder once and for all!
T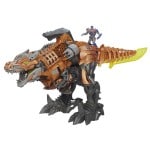 ransformers Age of Extinction Stomp and Chomp Grimlock, $69.00
Based on last summer's Transformers: Age of Extinction, there's never been a more powerful Transformers team-up than the Autobot leader Optimus Prime riding into battle on the back of the Dinobot leader Grimlock. With this Stomp and Chomp Grimlock figure, you can re-create that epic alliance. Place the included Optimus Prime figure on the dino's back to activate sounds, light-up eyes, and pop-out weapons. The battle-activation feature works with other Age of Extinction figures as well, and Stomp and Chomp Grimlock recognizes whether the figure on its back is an Autobot or Decepticon character and will activate different lights, sounds, and weapons depending on which side you choose! Collect your favorite characters, choose your side, and join the battle against extinction.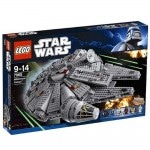 Lego Star Wars Milennium Falcon (7965), $149.99
Kids from ages 9 to 14 will be happy the old man got the tractor beam out of commission when they blast off with the Millennium Falcon LEGO Star Wars Set. Straight from the Death Star escape scene of Episode IV: A New Hope, kids can craft this replica of Han Solo's iconic starship from more than 1,200 LEGO pieces for a detailed, articulating display. With twin flick missiles, rotating laser cannons, and detachable cockpit cover, this Millennium Falcon set's got more than a few surprises left in it for you and your child to discover this holiday season!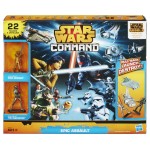 Star Wars Command Sets, $4.99-$29.99
Kids can re-create their favorite battles from the Star Wars franchise (and create more of their own!) with the Star Wars Command sets by Hasbro! A great and affordable choice for this holiday season, Star Wars Command sets (which come in a variety of different sizes) help your son command the force like never before. They're bound to fly off the shelves for the holidays– they've already made a splash in our house!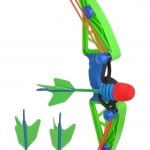 Air Z-Curve Bow, $19.99
Using safe, soft long range arrows that can soar 100 feet, Zing's Air Z-Curve Bow is the ultimate foam arrow shooter for high tech archery! The Air Z-Curve Bow fires an array of different arrows, including the long range RedX foam tip arrow that will bounce back off of targets and walls, the Foamtek so' foam suction cup tip arrow that will stick to almost anything, and the So'ek suction cup arrow (all included!) Set includes bow, two long range arrows, and a stick anywhere Zartz tip dart for accurate target practice, as well as a Zip Clip holder for arrows.