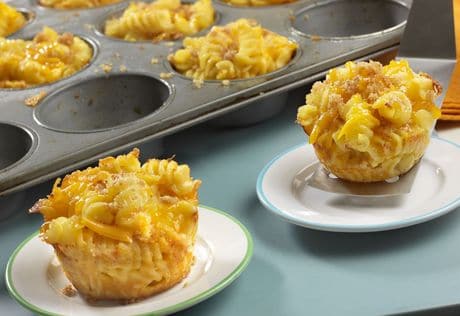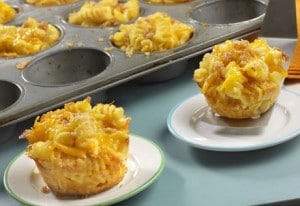 As a Wisest Kid Ambassador, my kid picked to make the Mini Macaroni & Cheese Cups. Everyone loves mac and cheese – who doesnt love these its CHEESE and PASTA  – that's like not liking ice cream!
Ok back on point… ARE YOU READY!?
Mini Macaroni & Cheese Cups Recipe
What You'll Need
Vegetable cooking spray (we used olive oil instead)
3 tablespoons plain dry breadcrumbs
1 teaspoon butter, melted
1 can (10 3/4 ounces) Campbell's® Condensed Cheddar Cheese Soup
2 tablespoons milk
1/8 teaspoon ground black pepper
2 cups rotini or medium shell-shaped pasta, cooked and drained
1 cup shredded Cheddar cheese (about 4 ounces)
How to Make It
Heat the oven to 400°F. Spray 8 (2 1/2-inch) muffin-pan cups with the cooking spray and lightly coat with 1 tablespoon of breadcrumbs. Stir the remaining breadcrumbs and the butter in a small bowl.
Stir the soup, milk, black pepper, rotini and 3/4 of the cheese in a medium bowl. Spoon about 1/3 cup rotini mixture into each muffin-pan cup. Sprinkle with the remaining cheese and breadcrumb mixture.
Bake for 20 minutes or until the rotini mixture is hot and bubbling. Let stand for 10 minutes before removing the minis from the pan.