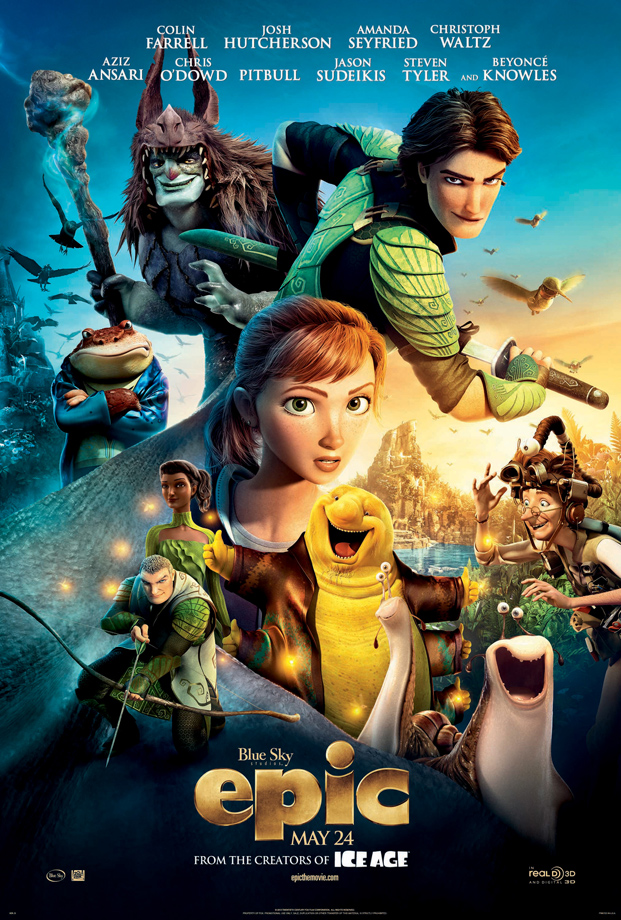 Epic the Movie is out as of Today (May 24th 2013)… I really enjoyed the movie its a classic good verse evil battle – there is a great subplot line about going green and protecting the forest. The larger plot is about a young teen (maybe a tween) not understanding her father and thru this adventure finding that connection.  The heroes learn what responsibility is – which is a great moral of the story that I think my 4 year old walked away with…
So should you take your kid to this movie – I took Marc whos 4.5 years old. He's really into superheroes right now – I'd put this movie on par with Brave or the Guardians if you want to compare it to other animated movies that have come out in recent months.
Here's the official plot… after which I'll share some great interviews with the cast and the trailer.
EPIC has it all – Samurai-like action and warriors, incredible aerial battles, laugh out loud humor and an adventure that will transport you to a hidden, rich and beautiful world, unlike any you've seen before.
The 3D CG adventure comedy hits theaters on May 24! From the creators of ICE AGE and RIO,EPIC tells the story of an ongoing battle between the forces of good, who keep the natural world alive, and the forces of evil, who wish to destroy it. When a teenage girl finds herself magically transported into this secret universe, she teams up with an elite band of warriors and a crew of comical, larger-than-life figures, to save their world…and ours.
EPIC features an incredible cast including: BEYONCÉ KNOWLES, COLIN FARRELL AMANDA SEYFRIED, AZIZ ANSARI, PITBULL, STEVEN TYLER, JOSH HUTCHERSON, CHRIS O'DOWD, CHRISTOPH WALTZ and JASON SUDEIKIS.
I was lucky enough to sit down and interview a couple of the stars of the movie – here is how some of that went down.
Question to Colin Farrell >
Blogger: So, this is the first family oriented movie that you've done.
Mr. Colin Farrell: Yes.
Blogger: So, what made you take a leap into this and animation?
Mr. Colin Farrell: Opportunity, really, to be honest with you. Unless you're writing your own material and producing your own work, which I'm not yet, but you go off, as a working actor, an actor looking for work, what you're presented with. And so, there was one animated film a few years ago that I had an opportunity to work on and I just didn't, I didn't feel I could do anything with it or I didn't connect to it at all. But then, when I saw what Chris and the team that Chris has worked with were creating and what their intention was, and as far as entertainment goes and what the story had to say and how beautiful the world that they were creating was, I just remember the first time I met them. It was a no brainer, you know?
Question to Amanda Seyfried >
Blogger: So, I guess my question is, as a dad of a child who's kind of starting down a path of wanting to be an actor, what advice would you have?
Ms. Amanda Seyfried: Be present. It's important to be around them because I feel like I would have felt lonely doing it and wanting it (if) my mom and dad weren't constantly there.
Link up! 
Like Epic on Facebook
Follow @EpicTheMovie on Twitter #EpicTheMovie
Watch Epic videos on YouTube
Follow Epic on Instagram