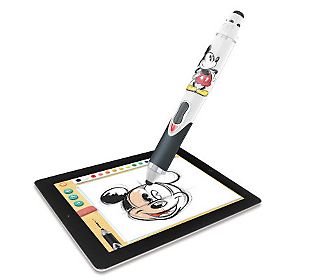 Got a couple of hours to kill in a plane or a car or train this holiday weekend? you might want to check out the Disney Creativity Studio.
Turn your iPad into an artist's studio with Disney Creativity Studio. Let real Disney artists teach you how to draw your favorite Disney characters. An easy to use and intuitive instructional guide will help you perfect your skills to create amazing artwork that you'll love to show off to your friends and family. Engaging activities like Tracing, Connect the Dots, Coloring and more provide hours of fun.
Interact with such favorite Disney characters as Mickey Mouse, Donald Duck, Goofy and Pluto
More than 45 unique "pages" of fun activities including coloring, tracing and connect the dots.
Real Disney artists provide step-by-step instructions for drawing Disney characters
An extensive palette of more than 30 colors available at your fingertips
Save and share creations with friends and family
Now there is just an APP but what I'm talking about is going to a store and buying this cool kit called the Disney Creativity Studio with Smart Stylus (you then get the app for free too).
This is a great little add on that will help your child interact with the app much like they do with pen and paper.
It's a little pricey from Apple but keep your eye on some other places like QVC.  I will say its also important to make sure you're running the latest and great iOS version you need iOS5 and higher (which shouldnt be a big deal for any iPad).