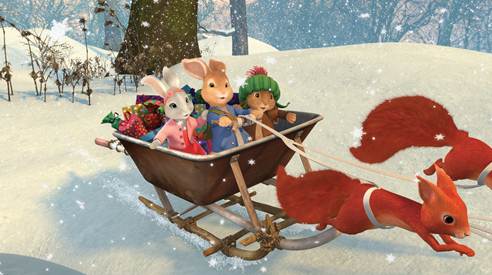 Peter Rabbit hops on to the TV screen with the premiere of Nickelodeon's brand-new primetime holiday special, "Peter Rabbit's Christmas Tale," Friday, Dec. 14, at 7 p.m. (ET/PT). Told with humor and heart, the special is a fresh re-imagining of the classic Beatrix Potter children's books, which have sold over 250 million copies worldwide and been translated into 35 languages.
In "Peter Rabbit's Christmas Tale," Peter Rabbit and his friend Benjamin Bunny take over for Mr. Bouncer when he gets sick and can't make the important holiday supply delivery.  They brave a blizzard and a sneaky fox, Mr. Tod, in order to deliver important gifts and supplies to the residents of the Lake District.  Along the way, Peter and Benjamin meet a new friend, Lily Bobtail.  Inspired by Beatrix Potter, Lily is strong, smart, independent, curious, a nature-lover and artist who is just as willful and playful as her male counterparts.
Set in Potter's treasured Lake District, Peter lives in a world where behind every rock there is a surprise to discover and where dangers (be it a sly fox or bad-tempered badger) lurk around every corner.  Peter Rabbit features educational goals that encourage preschoolers to learn problem-solving and interpersonal skills, self-efficacy, resilience, positive re-framing and fostering an interest in and respect for nature.
Nickelodeon's award-winning website, www.nickjr.com, currently offers parents and preschoolers a sneak peek of the holiday special plus Peter Rabbit coloring pages, stickers and mazes.
Dont forget to set the DVR for this one again its Friday, Dec. 14, at 7 p.m. (ET/PT).