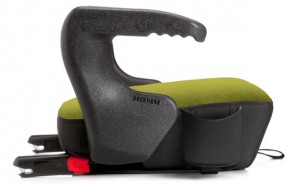 When you're a parent safety is the #1 factor… shortly behind that comes easy of use.  Living in manhattan you take certain things in stride – like I'll just hold my baby instead of carrying a carseat into and out of every taxi from FiDi to the Upper East Side.  Truth is we dont lug those things around because of the pain in the neck that is it to always put them in to and out of cars… which is why when my son hit 4 years old (he had already met all the other height and weight requirements) I was happy about moving over to a Clek Olli booster seat.
This is super cool in looks – ease of use is second to none… as long as your car was made in 2003 or newer (select 2001 & 2002) – you have the latch system and its easy peazy to install.
In 2012 Clek announced an Olli that even this papa bear was drooling over the Olli Cooper which is a leather booster seat. You know in modern times colors/fabric choices are how we parents define ourselves and our kids personalities.
Here's the kicker when is comes to lugging many other booster seats in and out of cars they can be 20 lbs without blinking an eye… you can carry the clek at just 5lbs — thats lighter then most bowling balls.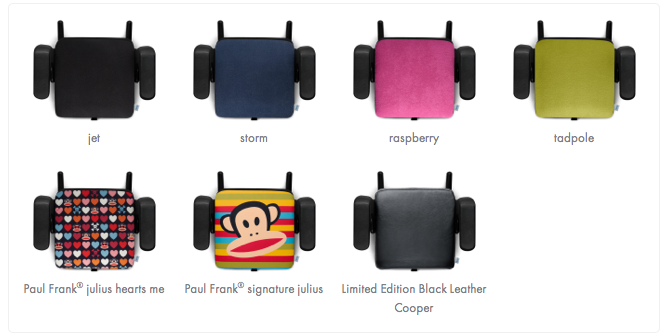 How do you know if you're child is ready to move from the convertible car seat to a booster seat – and a back-less booster seat at that… you really need to think about sleep patterns – is your child always falling asleep in the car then switching them over to a backless booster might not be the right fit.
But really – Who Should Use the Olli?
Booster seat laws vary by state. Please check your local booster seat laws.
Height Weight Recommended Age
40-57 in. (101-145 cm)
40-120 lb (18-54 kg)
4 years and up
If you're a leather guy – like I am – you really need to check out the Limited Edition Black Leather Cooper… but if I had to go in a different direction I'm loving that tadpole green color… but the Jet and Storm also work for me.
Our friends at Clek are sooo cool they're offering an Olli up as a giveaway prize… pretty simple pick out which olli color you'd like to own (your choice other then the cooper thats off limits because of its limited edition numbers).
How to win it… Contest ends 11:59pm EST. September 6th, 2012.
You must comment with which color Olli you'd like to own?  please include some method for us to contact you in the comment (twitter or email).
You get 1 extra entry for following us on twitter – twitter.com/dadarocks
You get 1 extra entry for following us on twitter – twitter.com/clek
You get 1 extra entry for tweeting about this contest (you can do this daily). Must contain the following information:
" win a @clek Olli #BoosterSeat from @dadarocks – http://dad.tc/OrksoP  "  and you must also comment with the link to your twitter message.
Example: I want to win a  @Clek Olli #BoosterSeat from @dadarocks –  http://dad.tc/OrksoP
You get 1 extra entry for becoming a Fan on facebook – facebook.com/dadarocks you must comment that you're a fan
You get 1 extra entry for becoming a Fan on facebook – facebook.com/clekinc you must comment that dadarocks.com sent you.
You get 1 extra entry for subscribing to our Feedburner digest mailing (right side subscribe by email) – you must also comment that you've subscribed
You will have 24 hours to reply before we pick another winner! Limited to the USA.
Disclaimer: Clek is providing the prize for the raffle and did provide a review unit – all thoughts of the product are my own.