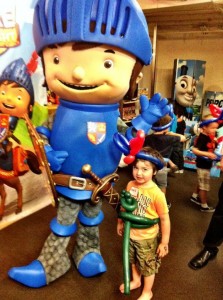 Mike the Knight, a new CG-animated preschool series that invites viewers into a fantastical world of castles, quests, dragons and trolls, centers on Mike, a 10-year-old boy with a bright future ahead of him.  The son of the King and Queen of Glendragon, he is determined to follow in his father's footsteps to become a brave and noble knight.  Co-produced by HIT Entertainment and Nelvana, the series currently airs on Nickelodeon and Nick Jr.
Bigger, bolder and more boisterous than ever, this summer's 35th annual New York Renaissance Faire promises unparalleled celebration, filled with all the first-rate revelry Faire goers have come to expect over the past three-and-a half decades.  Mike the Knight joins a popular array of grown-up knights, swashbuckling swordsmen, ropewalkers, period dancers and musicians, and other special guests.  Festivities at the Faire take their framework from the summer day in 1586 when Her Majesty Queen Elizabeth visited the English Shire of Sterling.
WHERE: Located in the heart of the Hudson Valley, 600 Route 17 — Sterling Forest in Tuxedo, NY.
WHEN:  Mike The Knight Special Appearance – August 18-19 – 10am to 7pm on Saturday and Sunday.
MORE: Tickets are $22.00 for adults and $11.00 for children.  Advance ticket discounts are available at renfair.com or 845-351-5174.
For further information regarding Mike the Knight visit www.miketheknight.com or for the New York Renaissance Faire visit http://renfair.com/ny/.  Follow Mike theKnight on Twitter @MikeTheKnightUS.
For those that really want to go – We've got a great facebook giveaway – Comment on this post to enter to win a Family four pack of tickets!