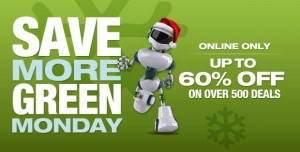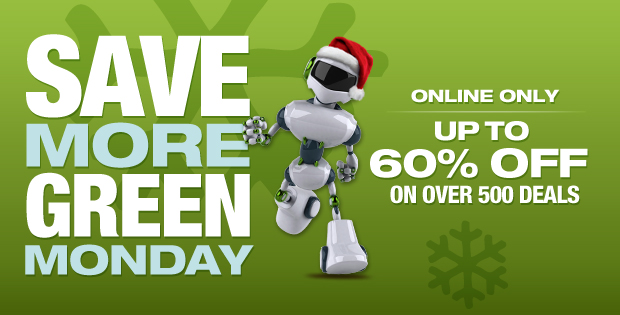 On December 12 and 13 Sears is celebrating Green Monday by taking it to Tuesday for two days of money saving madness.  Green Monday is the term that online retailers use to describe the 2nd Monday in December.  The deals are similar to those that you experienced on Black Friday or Cyber Monday but now we're calling this Green Monday.
Sears also has a coupon book that can extend your savings even more.  These are real savings like 20% off clothing or Kenmore Appliances, $50 off jewelry and more.  You can also get free shipping, receive 5% back when you use your Sears card or earn points that you can uses later at Sears for credit or cash.
The Coupon Book
This online coupon book can save you serious money on more than 80 in-store items and lots more online.  To receive these savings you need to be a Shop Your Way Rewards Member.  Signing up is easy and takes less time than googling for it yourself.  You can also sign up in-store at Sears.
These coupons are valid through Christmas Eve.  All of the information about being a SYWR Member and this Coupon Book are on the site.
Green Monday (and Tuesday) Deals
If you missed Black Friday (living under a rock) and your computer wasn't working for Cyber Monday then Green Monday is for you.  It's an online savings event where you will save oodles of cash on things that you need, want or need to give.  Some of the savings are jaw dropping and Sears is having Green Monday until 11:59 p.m. CT on December 13.  Yup, Green Monday goes into Tuesday; call it two days of Saving More Green at Sears.com.
Sears Free Shipping!!!
Just order at $99 and use the code REALJOY.  (some exclusions apply)
Sears Card
Boom, just purchase the items using your Sears Card and you'll get 5% back.  (some exclusions apply)
More perks for being a Shop Your Way Rewards Member
Once you've signed up as a SYWR Member you'll earn points for everything that you purchase.  Those points can be used to save money on future purchases or cash.
$100 Sears gift card GIVEAWAY!!!
To put your name in the hat for a $100 gift card to Sears just leave a comment letting us know what you want to purchase or who it's for.   We'll draw the winner on December 17th at 12:01 p.m. ET.