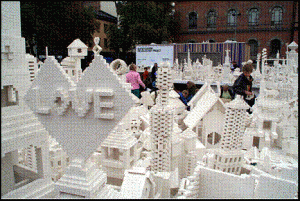 In the city that never sleeps – these kids might never get a nap…
Here are a few of the highlights of the weekend…
Oct 1st – Meet and Greet with Yo Gabba Gabba Cast at Best Buy Union Square
You need to be there at 9am to buy the volume 2 CD  First 200 get a bracelet for a 4pm meet and greet with the cast. Details are a little iffy but thats what I got from Best Buy and Yo Gabba Gabba sites.
Oct 2nd – Dag Hammarskjold Plaza hosts its 7th Annual Oktoberfest and Children's Jamboree TIME: 1-4PM WHERE: its 47th street and 1st ave.
iOct 2nd & 3rd – Yo Gabba Gabba Party in my city stops by Radio City music hall. There is also Boo at the Zoo where the Bronx Zoo is ready for some spooky fun.
Oct 3rd – Laurie Berkner has a concert in the city TIME: 11am & 3pm WHERE: The Town Hall 43rd St @ 6th Ave & Broadway. LEGO will be celebrating 'Play' in Central Park with Ultimate Block Party TIME: 11am to 5pm WHERE: At the Naumburg Bandshell in NY's Central Park (enter at 72nd St & 5th Ave) WHY: To ensure that all children are provided with competitive skills for the 21st century global world and to build a public groundswell about the value of play for fostering lifelong learning. WHAT is it?: Families can build and contribute their own original designs to our LEGO imagination construction zone. They will choose from 250,000 loose green bricks to construct a model for a creative landscape designed and built by Ultimate Block Party attendees.
I'm a busy beaver this weekend…