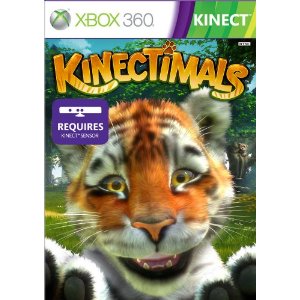 The idea of the virtual pet has come along way from the days of little black and white little egg shaped toys years ago.  Now children (and adults) can raise their own interactive pets… Kinectimals [amazon] is the first video games that allows you to be the controller using the xbox 360 kinect system to interact with your virtual pet.  There of course is a great twist which is you can purchase different stuff animals/plush toys to unlock different characters.  Since this was one of the first games being developed for the system its still by far one of the best.  Microsoft certainly has put a ton of work into this game and it show, from the details in the blades of grass to the interactions the animals have with the game player.
I'm not sure I love the fact that all the interactions are so standard it does make it hard for a toddler (my 2.5 year old) to interact with animals at times but I think any 3.5 year old or 4 year old should be able to control their emotions and arms for the 10 seconds to choose the different game plays. If thats the only fault of this game – then really its not a fault at all… its an advanced gaming system I'm not so sure its made for my toddler 😛 (shhh dont tell the wife I'm playing video games while she sleeps at night).
Here's a clip of the video game I'm sure you've seen it before – its just great…

As you can see it does for allow for the full body tracking and is pretty awesome at the interactions with the animal on screen.
A wide-eyed Bengal tiger cub cocks its head to the side and playfully peers at you. Memories of your first trip to the zoo come rushing back. Through the magic of Kinect that furry tiger cub is in your living room and about to become your best friend.
"Kinectimals" invites children, their parents and animal lovers of all ages to build lasting friendships with some of the world's most exotic creatures. Just like real pets, your "Kinectimals" will come running when they hear your voice, respond to commands such as "jump," "roll over" and "play dead," and purr with joy when you scratch them behind their ears.
Details
Get in touch with your wild side. Your journey begins when you adopt and name one of 20 playful friends, including a lion, cheetah and Bengal tiger.
Create memories that last a lifetime. From the first time she recognizes her name to when she learns to fetch, your cub will grow up as your sidekick, eager to discover the island around you. She will always be ready for a scratch and a belly rub with smiles and purrs.
The fun never ends. There are new ways to train tricks such as fetch, play activities such as jump rope, and even master agilvity courses with hops, stops and balancing acts. Invite a friend with his or her pet for some fun contests.
Discover, collect and customize. "Kinectimals" rewards those who are curious about the island they live on. Travel far and wide to discover treasures and toys, and find and unlock new environments. You can customize your pet and decorate your home, plus use the in-game store to shop for items to nurture and care for your new best friend.
Grow your "Kinectimals" family. Collectible, limited-edition plush toys will be available online and at popular retail stores. Choose your new friend, scan the code with the Kinect sensor, then watch it come to life on the screen right before your eyes. With your very own plush pal you can keep your new friend with you even when you're away from your Xbox 360.
you do need the kinect senor for your xbox 360 to get this game up and running in your house (so dont forget that).
How to win it… Contest ends 11:59pm EST. April 20th, 2011.
Leave a comment below with what big cat you'd have as your kinectimals pet and please include some method for us to contact you in the comment (twitter or email).
You get 1 extra entry for following @dadarocks on twitter –www.twitter.com/dadarocks You must comment that you're a follower.
You get 1 extra entry for following @xboxforall on twitter – twitter.com/XboxforAll You must comment that you're a follower.
You get 1 extra entry for tweeting about this contest (you can do this daily). Must contain the following information: @xboxforall @dadarocks – http://dad.tc/ihieaL  and you must also comment with the link to your tweet.
Example: I want to win #kinectimals for #kinect for #xbox360 thanks to @xboxforall & @dadarocks – http://dad.tc/ihieaL
You get 1 extra entry for becoming our FAN on facebook – www.facebook.com/dadarocks You must comment that you're a fan.
You get 1 extra entry for becoming their FAN on facebook – www.facebook.com/xboxforall (and leave a note saying that www.dadarocks.com sent you) You must comment that you're a fan.
You will have 24 hours to reply before we pick another winner!
Disclaimer: Thanks to microsoft xbox 360 kinect team  for this giveaway.