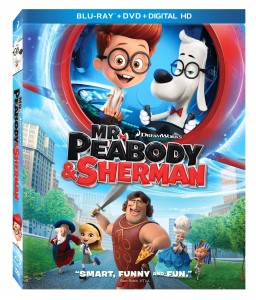 DreamWorks Animation's MR. PEABODY & SHERMAN!  Mr. Peabody (Ty Burrell) is an inventor, scientist and genius who just happens to be a dog. With his son Sherman, he will embark on the most extraordinary adventure imaginable as they race against time to repair history and save the future.
MR. PEABODY AND SHERMAN is based upon the beloved characters that first appeared in in the late 1950s and early 1960s animated television series "Rocky and His Friends" and "The Bullwinkle Show," produced by Jay Ward.
Sit back and go WABAC to experience the ultimate joy ride and loads of laughs when MR. PEABODY & SHERMAN arrives on Digital HD on September 23 and on Blu-ray 3D, Blu-ray and DVD on October 14.  Jay Ward fans will want to get the 3D Blu-ray release which has everything for enthusiasts to celebrate the Jay Ward legacy including a 5-minute All New Rocky & Bullwinkle short and several original TV episodes.
Directed by Rob Minkoff (THE LION KING, STUART LITTLE) and from the team behind family favorite franchises THE CROODS and HOW TO TRAIN YOUR DRAGON, MR. PEABODY & SHERMAN is "fun" and "fast moving" (A.O. Scott, The New York Times) and features hilarious performances from an incredible voice cast of popular stars including Ty Burrell, Ariel Winter, Stephen Colbert, Leslie Mann, Max Charles, Patrick Warburton and Allison Janney.
Here is my original review of the movie when it first opened…
I've included some great coloring and activity sheets for Mr. Peabody and Sherman.