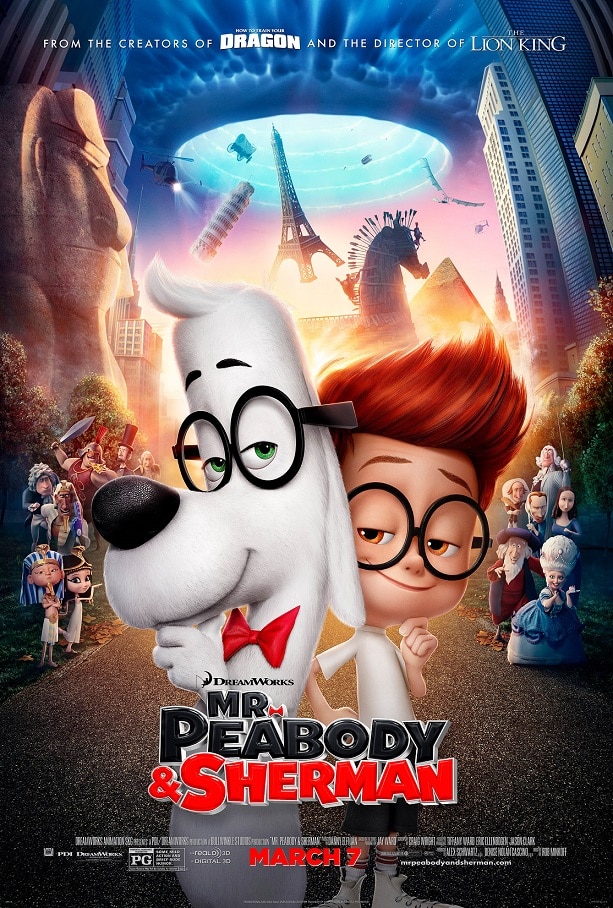 I grew up watching old cartoons of course Rocky and Bullwinkle was a favorite and somehow those opened up into little shorts of talking dog Mr. Peabody and his little friend Sherman (a little boy) traveling in time using the WABAC machine.  Fast forward to today… when Dreamworks Animation releases Mr. Peabody and Sherman on the silver screens across America.
Mr. Peabody (voiced by Ty Burrell, Emmy Award Winner –Modern Family), the most accomplished dog in the world, and his mischievous boy Sherman (Max Charles –The Amazing Spiderman), use their time machine—the WABAC—to go on the most outrageous adventures known to man or dog. But when Sherman takes The WABAC out for a joyride to impress his friend Penny, they accidentally rip a hole in the universe, wreaking havoc on the most important events in world history.  Before they forever alter the past, present and future, Mr. Peabody must come to their rescue, ultimately facing the most daunting challenge of any era:  figuring out how to be a parent. Together, the time traveling trio will make their mark on history.
Mr. Peabody and Sherman stars the voices of Ty Burrell, Max Charles, Ariel Winter, Stephen Colbert, Leslie Mann, Patrick Warburton, Stanley Tucci, Allison Janney, Mel Brooks, Lake Bell, Zach Callison, Dennis Haysbert.
I really loved this movie – it had what I thought was a great spirit of fatherhood in the movie. I think this will be a tv show in no time (Netflix should be all over this) because there is a central theme which is its a great history lesson.  My five and a half year old son thought the movie was great… even said he'd like to have an adventure like that one day.  Which in the end is all you want from a movie to be transported away for an hour or two into a fun and happy place (at least the movies I take to see with my children).
I attended a screening a couple of weeks ago and was able to sit down with Rob Minkoff, the Director of Mr. Peabody & Sherman. He told us that this movie was 12 years in the making! He knew the characters as a kid and thought it would do well as a movie. You might have heard of another one of Rob's movie The Lion King… yahhhhhh that his too…  I also got to interview Ty Burrell, who  mentioned his opinion about the overall message about the movie. "I would say that the core of the movie is the universal idea that love and caring and trying hard as in any real relationship is the most important thing that the externals are irrelevant.  In this case, it's a father-son relationship." Along with Ty was Max.  Max might be the hardest working kid I have ever met (I think he's 10 years old) and works 5 or 6 days a week between all his different projects. I got to as Max a question that I am sure kids always want to know is how can they can do what Max does. He offered up advice to  kids and adults should take note of "Follow their dreams and do what they want to do."
Connect with Mr. Peabody Online!
Visit the official website
Like Mr. Peabody & Sherman on Facebook
Follow @DWAnimation on Twitter, and hashtag: #MrPeabody