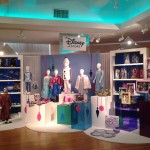 There's certainly something to be said for Christmas in July. After all, even though the chill of winter may be the furthest thing from our minds as we grill and watch the fireworks this weekend, the holiday season is only a few months away, and it's never too early to get ready! That's certainly the attitude Disney had toward things when they recently showcased their upcoming products for the 2014 holiday season. It's set to be quite the exciting time this year for boys, girls, and even moms and dads, with toys, games, electronics and apparel based on some of Disney's hottest properties.
For boys, superheroes are a perennial classic, and this year looks to be no different, with a big push toward the sure-blockbuster Guardians of the Galaxy (due in theaters this August). The film's minuscule hero Rocket Raccoon is getting a particular dose of star treatment, with action figures, plush, and more bearing the character's image (and phrases voiced by none other than Bradley Cooper, who lends his acting charm to the character in the movie as well!) The Avengers are also a big focus this year, with a holiday children's book featuring narration by Marvel legend Stan Lee, and of course the upcoming Disney Infinity 2.0! Infinity 2.0, a follow-up to last year's wildly successful Disney Infinity, will center around Marvel heroes like the Avengers, Spider-Man, and more, and is ready to hit shelves this September.
Girls this year will be more than ready to "Let it Go" with the stars of Disney's Frozen, who will feature on a number of playsets, books, and costumes inspired by the instant classic. The film's  booming fanbase has only continued to grow since the film's debut last winter, and Frozen's spike in popularity has in turn led to the two princess leads, Anna and Elsa, (and their lovable snowman pal Olaf) appearing anywhere and everywhere you could imagine. Coming this winter, be sure to keep an eye out for new Animator's Collection dolls of Anna and Elsa, an Olaf snow cone maker, and more!
Finally, for the teens and adults in your life, Disney's got plenty to offer as well, with lines of headphones, speakers, collectible items, and apparel featuring such licenses as Marvel and Star Wars, and of course the classic Disney characters and princesses. Standouts include a partnership with Vans to produce Stormtrooper-based shoes, bags, and apparel, a partnership with Under Armour to create Marvel-themed cleats, workout shirts, and more, and (going back to Star Wars), headphones based around the Rebels and Empire, and a portable Death Star speaker.
We've certainly got a great holiday season ahead of us from Disney, and I don't know about you, but I for one am glad that it's beginning to look a lot like Christmas!