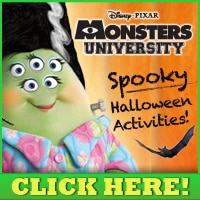 I was a big fan of Monsters Inc and my son was a super fan of the movie.  When we heard about Monsters University we both laughed and said to each other yahhh we'll totally see that – and thats just what we did. We saw the movie a couple of days early and loved it… Now we're totally excited that we get to watch it over and over again.  For me there is an animal house aspect and for him its those lovable monsters.
Ever since college-bound Mike Wazowski (voice of Billy Crystal) was a little monster, he has dreamed of becoming a Scarer—and he knows better than anyone that the best Scarers come from Monsters University (MU). But during his first semester at MU, Mike's plans are derailed when he crosses paths with hotshot James P. Sullivan, "Sulley" (voice of John Goodman), a natural-born Scarer. The pair's out-of-control competitive spirit gets them both kicked out of the University's elite Scare Program. To make matters worse, they realize they will have to work together, along with an odd bunch of misfit monsters, if they ever hope to make things right. "Monsters University" bravely explores themes of self-discovery and the revelations that come with growing up. 
Joining Crystal and Goodman as part of "Monsters University's" monstrously talented voice cast are Steve Buscemi (voice of Randy Boggs), Helen Mirren (voice of Dean Hardscrabble), Alfred Molina (voice of Professor Knight), Charlie Day (voice of Art), Sean P. Hayes (voice of Terri Perry), Dave Foley (voice of Terry Perry), Nathan Fillion (voice of Johnny Worthington) and Aubrey Plaza (voice of Claire Wheeler). Featuring a score from recent Rock and Roll Hall of Fame inductee and award-winning composer Randy Newman ("Monsters, Inc.," "Toy Story 3"), MU also includes music from Axwell and Sebastian Ingrosso of Swedish House Mafia.