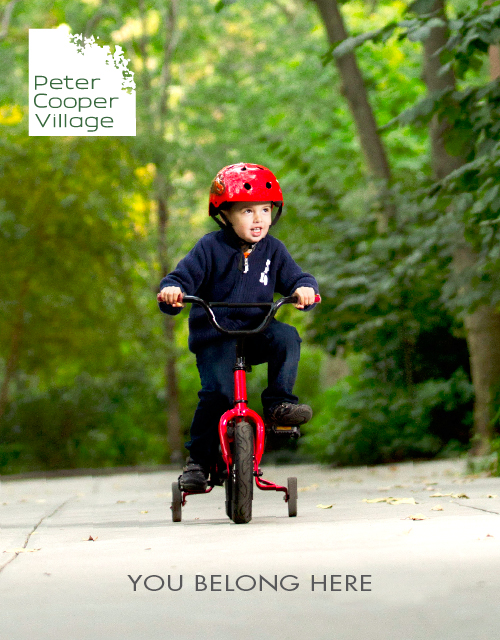 There is a place – in Manhattan — where life seems (God forbid!) suburban.  And my good friend lives there.
Is this a good thing? Yes.
Why? Because he has two young children.
Peter Cooper Village is a fascinating place.  Oversized apartments set in an 80-acre grassy park with abundant amenities and activities — and no guilt for he and his wife about raising children in the city.
Over the past month, he and his family have attended the annual Spring Carnival (total blast), the Dan Zanes concert (thanks, Dan: now Catch That Train has replaced Wheels on the Bus on permanent replay at his home) and outdoor screenings on The Oval Lawn with dozens of other children and their parents of baseball games (MLB Yankees & Mets) and movies like The Muppets Movie.  They play basketball, tennis and ping pong there.  Ride their bikes, hang out at the greenmarket and visit the numerous playgrounds as well as the children's playroom.  The list goes on.  The bottom line is even if they were in the suburbs I can't imagine such a complete family life as they have at Peter Cooper Village.
PS: Since a picture tells a thousand words, here's a short video of this Spring Carnival that pretty well sums it all up: youtube.com/pcvstliving
Disclaimer: This is a sponsored post.