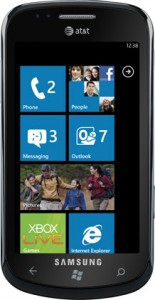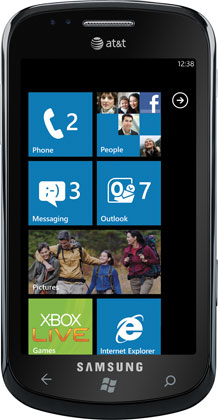 Father's day is almost drawn to a close but I'm sure there are many now looking for a gift – still – and you know guys love technology… While you know I'm totally an apple fan boy… I've heard great things about the Samsung Windows Phone and I thought I'd give it a test drive (which was provided by the Microsoft team). The phone was rock solid… I was really impressed with the deep integration of outlook, xbox live, and instant integration of facebook.
If they're not into apple and the others arent seeming like a great fit – this phone is amazing – I can certainly seeing this becoming the business man's of choice phone with its outlook integration.
Why Windows Phone?
Get his head in the game: Windows Phone is the only smartphone with Xbox LIVE, which means you can play Xbox LIVE games and earn Gamerscore points anywhere, anytime. And with titles like Need for Speed, Assassin's Creed and Guitar Hero 5, Dad can really get his game on.
Jamming to the oldies: With the power of the Zune music service and great apps like LastFM, Dad can listen to his favorite LPs and discover new music right on his phone. And with a Zune Pass subscription, he can stream and download unlimited music every month for just the price of a CD. Did we mention it also works on your PC, through the browser and his Xbox too?
See what's important: With a Windows Phone, Dad can fully customize his Start Screen with all the things that matter most. Pin directions to the baseball park, favorite apps, anything! Dad can even keep tabs on the kids by pinning them to his Start Screen to see instant updates from their Facebook – without opening an app!
Unchain from the desk: No need to swing by the office on his day off, with a Windows Phone and Office Mobile, Dad can create, view and edit Microsoft Office documents like PowerPoint, Excel and Word, right from his phone. No desk or laptop required.
Dad-approved apps: Whether he is getting the latest sports scores, shopping for a weekend project or lighting up the BBQ,Windows Phones have all the apps Dad wants. I've included some of our favorite apps for Dad below.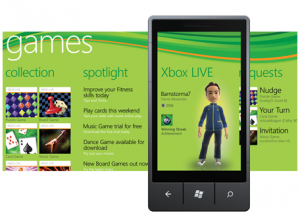 Windows Phones are available from every major US carrier, and the Samsung Focus Windows Phone from AT&T starts at just $49.99 with a 2 year contract and recently ranked higher in overall customer satisfaction than the iPhone in a PC Mag survey.
Our Father's Day App Picks:
Home Depot: No need to spend your Saturday wandering the isles at the hardware store. With the Home Depot app you can research and purchase more than 100,000 products right from your phone.
ESPN Score Center: Dad can keep up with his favorite teams from anywhere, with ESPN ScoreCenter. Get scores, news, and standings from hundreds of sports leagues around the world.
MyLife: This exclusive app helps Dad manage all his duties, including capturing and saving those special moments in his family's life from his child's first steps to their first gold ribbon at a swim meet in the dedicated 'memories' mini app. Also track birthdays, to-do lists and other details with other mini apps built right in.
MLB Now: Summertime is baseball season. MLB Now gives dad current scores, standings, stats, news and even MLB tweets right at his fingertips.
Gourmet Burger: Is BBQ one of dad's favorite summer pastimes? With the Gourmet Burger app, he can be the king of the cookout with recipes for tasty new options from the hot pepper & pork burger to the Mediterranean lamb burger
Paramount – True Grit: With Paramount's True Grit Enhanced Movie App, dad can experience the Oscar nominated films like never before. With behind the scenes content, easy viewing and the ability to share favorite clips via Facebook, dad will think he's one of the Coen brothers.
Microsoft's Windows Phone 7 has been available to customers since November 2010. They're now available on all major U.S. networks, including AT&T, Sprint, T-Mobile and Verizon. Specifically, the giveaway winner will receive a Samsung Focus (with 30 days of service from AT&T). Let's chat about the phone now… Samsung Focus – The thinnest, lightest Windows Phone device, the Samsung Focus offers a 4.0" Super AMOLED display, a sleek design, a 5 mp camera with enhanced photo options such as panorama and smile detector, and exciting entertainment – from Xbox LIVE to Zune music and videos. Available in AT&T stores and online with its pricing at $49.99 with 2-year contract.
How to win it… Contest ends 11:59pm EST. June 27th, 2011.
Tell us who would be rocking the windows phone if you won it and please include some method for us to contact you in the comment (twitter or email). We'll randomly pick someone to win.
You get 1 extra entry for tweeting about this contest (you can do this daily). Must contain the following information: @dadarocks – http://dad.tc/mwuRF4 and you must also comment with the link to your twitter message.
Example: I want to win the #SamsungFocus #MicrosoftWindowsPhone  from @dadarocks  – http://dad.tc/mwuRF4
You get 1 extra entry for following us on twitter – twitter.com/dadarocks
You get 1 extra entry for becoming a FAN on Facebook – facebook.com/DaDaRocks you must comment that you're a fan
You will have 24 hours to reply before we pick another winner!
Disclaimer: Thanks to Microsoft for providing the prize for this raffle.