I've been loving a few clothing companies lately that are really doing amazing things for kids and for dads.
Blume – good lord those clothes are tooooooo cute! Who doesnt love a baby in a tie. Matching outfits aren't just for moms and daughters anymore. With Father's Day quickly approaching you can stop scrambling to find dad the perfect gift. This Father's Day your 'little man' can buy dad a shirt to match. Blume introduces the "Big Man" collection, the same tie tees in a big new way!
Blume is the innovator of the "Little Man" collection- the real handmade ties on tees have been featured in lots of glossy mags like PEOPLE, US Weekly, and OK! with trendsetting celebrity tots like the Beckham Boys, Kourtney Kardashian's son- Mason, and Tori Spelling's son – Liam.  All the buzz inspired us to enlarge the offerings  – literally! Just ask Shaquille O'Neal who got the ball rolling on this new trend when he requested a week's worth of tie tees to match all the ones his sons had – yes, they all really do own Blume Tie Tees! Little boys hope to grow up to be just like their fathers, until then they can dress like them with Blume!
Blume prides itself on creating comfortable, fun, fashionable items for the whole family. Blume collections can be found in fine stores nationwide like Barneys and online at www.blumeguy.com and www.blumebaby.com. The other cool part is they don't limit ties to just the boys, they've got great little girl tie sets too.We've got a great giveaway at the bottom of the post from blume too – we're giving away a Blume's Father and Son Tie Tees Set… Just a quick note these aren't real ties these are part of the shirts.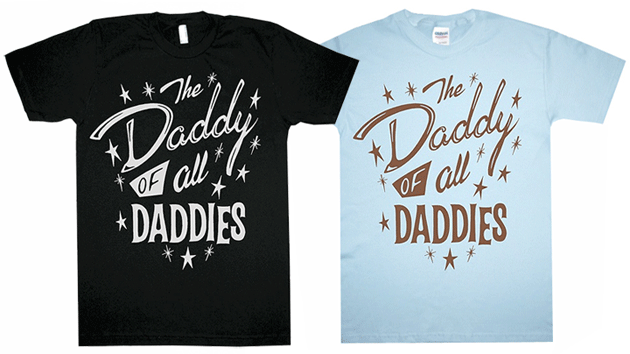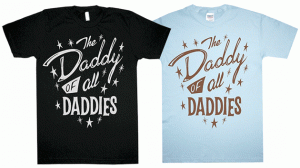 Rockstar Revolution – who is offering 20% off for all of your followers for probably one of the greatest Fathers Day T-shirts on the planet! 'The Daddy of All Daddies' is available in 2 colors – Brown Ink on Vintage Blue shirt and Silver Ink on Black shirt and in sizes Small through 5XL.  Here's the link to the shirt: http://www.rockstarrevolution.com/product-p/dad%201.htm simply enter the code DADDY at checkout to receive 20% off the price of the shirt. They also have RAD (yes you heard me RAD) baby and toddler shirts.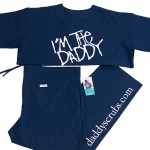 DaddyScrubs – For those that want to be there during the c-section and declare I'm the daddy (not the doctor) or just to have some cozy clothes to hang around the house Daddy Scrubs is just that… Http://www.daddyscrubs.com as another option.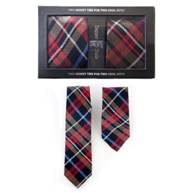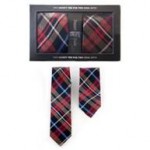 Dapper Dude from Diaper Dude – We all know and love the Diaper Dude diaper bags – they've come out with a really cute line of father/son ties.  The ties come in two different sizes Boys Zipper Tie 14" (age 3T-6) or Youth Zipper Tie 17" (age 7-12). What is a Zipper Tie? (available in child sizing only). A zipper tie is a tie that is pre-tied with a zipper built in to the knot. You unzip the tie to remove it and zip it up to wear it. Keep and eye out on the DadaRocks's Facebook page for some great father's day giveaways this week.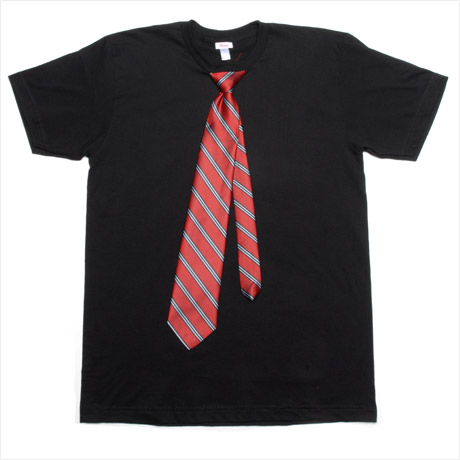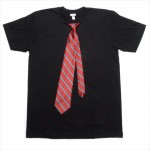 How to win it… Contest ends 11:59pm EST. June 16th, 2011.
Take a hope on over to blumegirl.com and tell us what color shirt/tee you'd like for your little one and please include some method for us to contact you in the comment (twitter or email). We'll randomly pick someone to win both sets of DVDs
You get 1 extra entry for tweeting about this contest (you can do this daily). Must contain the following information: @blumegirl @dadarocks – http://dad.tc/jszQxp and you must also comment with the link to your twitter message.
Example: I want to win the @blumegirl #FathersDay Gift Set from @dadarocks  – http://dad.tc/jszQxp
You get 1 extra entry for following us on twitter – twitter.com/dadarocks
You get 1 extra entry for following them on twitter – twitter.com/blumegirl
You get 1 extra entry for becoming a FAN on Facebook – facebook.com/DaDaRocks you must comment that you're a fan
You get 1 extra entry for becoming a FAN on Facebook – facebook.com/BlumeGirl you must comment that dadarocks.com sent you
You will have 24 hours to reply before we pick another winner!
Disclaimer: Thanks to Blume Girl for providing the prize for this raffle