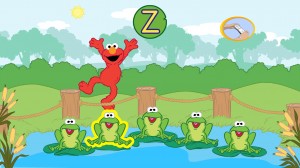 One thing that has really changed in the last few years is the direction of gaming for toddlers and babies. If you would have asked anyone in the industry 10 years ago whats the youngest a game for a kid should be made it was 6… today games are being designed and thought about for kids as young as 2!
Whats great is that I have a 2 year old, when I was invited out to see the not yet finished Sesame Street Wii games I jumped at the chance – first we had just gotten back from Sesame Place and my son had an amazing time! When I first saw these games I was like wow! no really these games are good graphics with a very large educational content component… my son already knows the iPad inside&out and is really ready for the next thing (as I'm also starting to think about focusing on hand/eye movement more and more).
In Sesame Street: Elmo's A-to-Zoo Adventure, kids head to the Zoo with Elmo, Zoe and their animal friends, as they explore fun games including letter identification, rhyming, letter sounds and color and shape identification. Kids can also explore fun Zoo habitats including the Aquarium, Savanna, Jungle, Wetlands and the Arctic.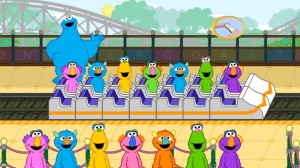 In Sesame Street: Cookie's Counting Carnival, kids join Cookie Monster and Big Bird at a fun-filled carnival, through gameplay steeped in math skills that include number identification, counting, shapes and pattern recognition. Kids journey through the game in the many areas of the carnival such as The Grandstand, Midway, Petting Zoo, Food Court and the Arcade.
Seriously these games were designed for a 2 year old and up… they've thought about everything from the idea that the Wii remote doesn't require line of sight IR (that whole bar in front of the TV) to the a control cover that is of the character of each game!
These are also on the PC but more importantly the DS and come with an extra large Pen for your little one's hands. Here are some quick run down of some great features of both games.
Gameplay Helpers for Smaller Hands: Available for Wii and Nintendo DS systems, special gameplay helpers simplify gameplay controls and make them more accessible for preschoolers with small hands and developing skills.  They will come packaged with the game at no additional cost.
The Wii gameplay helper is a soft and fuzzy character cover with special grips that slips over the Wii Remote, minimizing unnecessary buttons and making it easier and more fun to hold.
The Nintendo DS gameplay helper is a jumbo click stylus designed for smaller hands, simplifying interaction with the touch screen.  It features a retractable tip and wrist strap for safety and its soft grip provides for a comfortable grasp.
Parents' Area: Parents may review games their child has played along with relevant curriculum for each. Parents can also customize up to four profiles and set game limits.
Parent Can Play With Their Kids: The Parental Assist Mode feature allows use of the second Wii-Remote to assist the child through the game, without taking away the child's remote.
Broad Range of Games: The game features an array of distinct learning games based on a variety of activities, including counting and enumeration, number identification, plus pattern, shape and color identification.
Audio Direction: Game instructions are provided by audio rather than text direction for children with developing reading skills.
Easy to Play: The games are entertaining and intuitive enabling preschoolers to play by themselves.  They require minimal button usage.   For the Nintendo DS, there's no required button pushing – only screen tapping or using the microphone.
Player Adaptability: The game difficulty adapts to child's level.
Active Gameplay: With Wii, game movements are Jump, Tilt, Pump, Scoop, Shake and Toss.  All are performed with two hands with a "'handlebar" grip.
For more information on these games check out http://www.sesamestreetvideogames.com
If you want to order these games here are the Amazon.com links Cookie Monster [Wii | DS] & Elmo [Wii | DS]
How to win it… Contest ends 11:59pm EST. November 2, 2010.
You must comment telling us who your favorite Sesame Street character is, please include some method for us to contact you in the comment (twitter or email)
You get 1 extra entry for following us on twitter – twitter.com/dadarocks
You get 1 extra entry for tweeting about this contest (you can do this daily). Must contain the following information:
#sesamestreetvideogames @dadarocks – http://bit.ly/cu82Fx and you must also comment with the link to your twitter message.
Example: I want to win the #sesamestreetvideogames from @dadarocks – http://bit.ly/cu82Fx
You get 1 extra entry for becoming a Fan on facebook – facebook.com/dadarocks you must comment that you're a fan (and leave a little note on the wall)
You get 1 extra entry for subscribing to our Feedburner digest mailing (right side subscribe by email) – you must also comment that you've subscribed
You get 1 extra entry for becoming a friend on Google Connect (right side below facebook box) – you must also comment that you've become a friend
You will have 24 hours to reply before we pick another winner!
Disclaimer: Thanks to the WB Games for the prizes for this raffle.