One of the toughest things these days is to know which books to buy for the kids – this holiday season I've got some help from my friendly little elves at The Scholastic Store – with some top picks!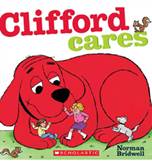 Clifford Cares
 by Norman Bridwell – (Ages 0-3; $6.99) Clifford loves to care. He shows he cares–about his neighbors, his family, and his park–and everyone cares about Clifford! Perfect for the youngest puppy fans, this simple story is done in classic Clifford style and also has a padded cover!

I Am Small
 by Emma Dodd- (Ages 0-3; $8.99) From the eyes of a baby penguin the world is a great big place. The sky so high, the ocean so deep, and the mountains so steep–all these things are magnificent from it's point of view. But in the eyes of it's mother–this little penguin is the biggest, most important thing in the world! This beautiful story is highlighted with foil on the cover and throughout.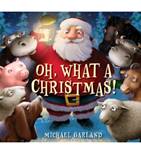 Oh, What a Christmas!
 by Michael Garland – (Ages 3-8; $16.99) Join Santa's wild ride in this soon-to-be Christmas classic! When the harness to Santa's sleigh breaks mid-flight, Dasher, Dancer, and the rest of the reindeer gang fly off into the night…leaving Santa and all of his presents stranded! Who will guide Santa's sleigh and save Christmas now?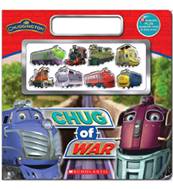 Chuggington: Chug-Of-War
 by Scholastic (Ages 3-5; $12.99) Which team will win? You decide! Nobody wants to go to the mine to do a messy job. There's only one way to settle it–a chug-of-war! Kids will love using the magnets in this interactive book!  8 magnets PLUS magnetic book and play area!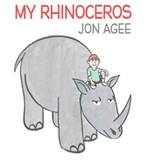 My Rhinocerous
 by Jon Agee – (Ages 3-7; $16.95) If you should ever get a rhinoceros for a pet, you're in for a surprise. It won't chase a ball. Or a stick. Or a frisbie. In fact, according to the experts, a rhinoceros does only two things: pop balloons and poke holes in kites. But don't be discouraged. As you'll discover in Jon Agee's hilarious picture book, rhinoceroses can do more–so much more–than that!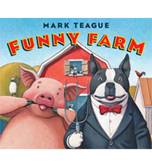 Funny Farm
 by Mark Teague – (Ages 3-7; $16.99) The cows, pigs, and sheep have been waiting for Cousin Edward to visit Hawthorne Farm. The fun is never ending as Edward tries his best to milk the cows, tend the sheep, feed the pigs, plant the garden, and much more. It is truly a day that Edward will never forget!

Can You See What I See? Toyland Express by Walter Wick – (Ages 5+; $13.99)
Kids will love this amazing new search-and-find adventure from the creative mind of renowned photographer and author Walter Wick – the creator of award-winning picture books, the author and photographer of the New York Times bestselling Can You See What I See? series, and the photographer of the bestselling I Spy series. ... [ read more ]