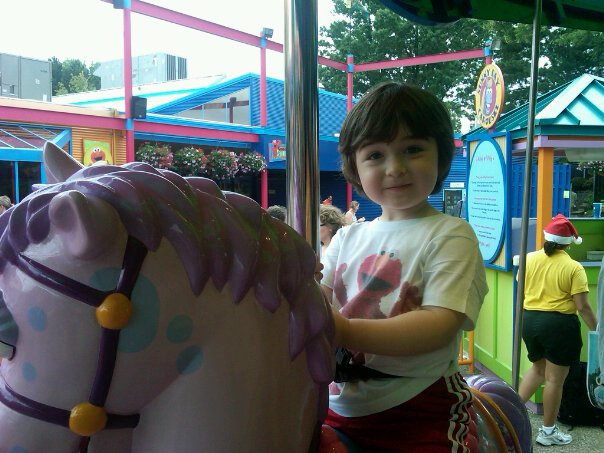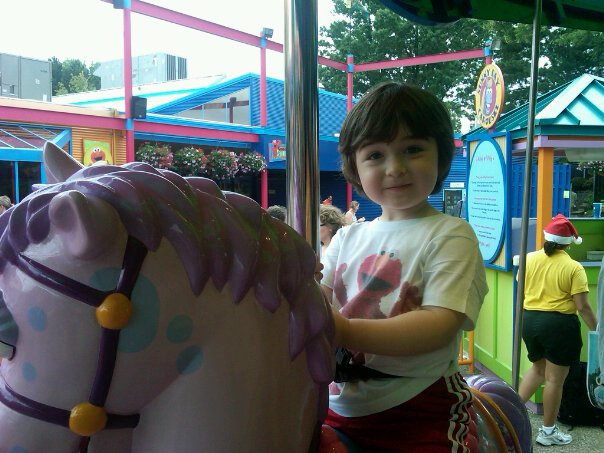 Knowing is half the battle and knowing where you're going is well much more… my family really loves heading to Sesame Place and we've done the print out directions route before and this trip I wanted to put the TeleNav AT&T navigator to the test.
The app got us there in a little under an hour and forty minutes, it automatically re-routed around some delays in New Jersey, which actually helped get us there before the rain came.
I spoke the command Sesame Place within seconds up popped the address, created directions and we were on our way.  The day was a blast – it was part of their Christmas in July event – which is why you'll see some Santa hats on the characters.  You'll also clearly see how much of a fool I'll make of myself in front of hundreds of strangers and a few other bloggers… so I thought why not share this totally embarrassing video of me trying to bring a smile to my kids face while daddy dances by the stage.
As you can read in my past Sesame Place posts – its a great amusement park for families with young children to tweens.  I think the teenagers would get bored.  There are enough rides that any child from 3-11 will easily have fun much beyond that age the rides might get a little "young" for them.
Half the park is water rides which I would say is great for the 5-11 and most of the dry rides are great for that general 3-9 range.  The admission prices arent terrible as there is usually a deal to be found at McDonald's and they're currently running the special of buying a 2012 season pass get the rest of 2011 for free.
Plenty of great times coming up with visits from Max and Ruby, The Dirty Sock Funtime band, and the holidays of celebrations like The Counts Halloween Spooktacular and a very furry Christmas.
Everyone a blast at sesame street – I have some really fun pictures of us on the rollercoaster but I'm barred from showing them online for pain of death from my sister and wife (yup it was a family outing).  As I said we got there before the rain (thankfully) and really enjoyed the park.  We made it around the corner to a stop at Chick-fil-a (one of our favorites that isnt in New York) and we used TeleNav's AT&T Navigator app to get us home.
How to win it… Contest ends 11:59pm EST. September 7, 2011.
You must comment telling us your favorite Sesame Street Character, please include some method for us to contact you in the comment (twitter or email)
You get 1 extra entry for following us on twitter – twitter.com/dadarocks
You get 1 extra entry for following Sesame Place on twitter – twitter.com/SesamePlace
You get 1 extra entry for tweeting about this contest (you can do this daily). Must contain the following information:
@SesamePlace @dadarocks – http://dad.tc/puLtYO  and you must also comment with the link to your twitter message.
Example: I want to win @SesamePlace tickets from @dadarocks – http://dad.tc/puLtYO
You get 1 extra entry for becoming a FAN on facebook –facebook.com/DaDaRocks you must comment that you're a fan
You get 1 extra entry for becoming a Fan on facebook of Sesame Place – facebook.com/SesamePlace you must comment that you're a fan
You get 1 extra entry for subscribing to our Feedburner digest mailing (right side subscribe by email) – you must also comment that you've subscribed
You will have 24 hours to reply before we pick another winner!
Disclaimer: Sesame Place is providing these tickets for the raffle.