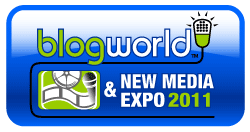 On November 3-5, 2011, BlogWorld & New Media Expo will be in LA — This time around with the addition of a Type-A Parent track too!
Blogworld is a great social media conference with some of the best in the business on panels, speakers, or keynotes on top of that they're also there listening to their peers, networking and connecting with friends, fans and colleagues.
The content is key and if you check out the speakers list you'll be impressed – but what is this Type-A Parent Track you may wonder?
The Type-A track lineup is:
The lineup was sourced from the Blogworld site (
here
) and I'm sure will be subject to some change based on schedules (we are all parents so when the kids call right?!)
What is Blogworld? BlogWorld & New Media Expo is the first and only industry-wide conference, tradeshow and media event dedicated to blogging, podcasting, social media, social networking, online video, music, Internet TV and radio. BlogWorld conference attendees enjoy more than 120 cutting-edge educational sessions presented by leading bloggers, podcasters and content creators, while the New Me/dia Expo provides the only industry-wide new media marketplace for networking, online business and marketing resources.
Register at blogworldexpo.com with the promo code DADA20 to save 20% off any conference pass. I should note that prices go up 30% on 9/21 hurry up and go get your pass!!!!