You're reading this because you're most likely a parent… now being a parent I can say I wait till the last second to do anything and everything… mainly because I'm too busy doing other things to really make time for things but I think we can all agree that eye exams are the most important back-to-school supply. Simply because 1 in 4 kids have a vision problem that can affect academic learning, which is 80% visual.
Making annual eye exams part of your annual back-to-school check list helps set your child up for success. Simple vision screenings are not enough to take care of your child's eyesight. A study by the National Eye Institute found that vision screenings missed between 32-63% of vision problems identified by eye examinations. Further, the American Optometric Association shares that 60% of students identified as "problem learners" actually have an undetected vision problem.
Children often don't know if they should see better. That's why it's important to schedule annual comprehensive eye exams before starting the school year… Which brings us to this point that its BACK… the whole no time and putting it off to the last minute because the LensCrafters Semi-Annual Lens Event ends soon!!!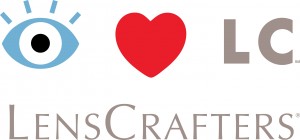 LENSCRAFTERS SEMI-ANNUAL LENS EVENT
FOR A LIMITED TIME RECEIVE 50% OFF LENSES WITH FRAME PURCHASE DURING LENSCRAFTERS'
SIGNATURE LENS EVENT
LensCrafters – the ultimate eyewear retail destination that offers a great selection of prescription glasses and sunglasses, including the widest variety of brands, styles and looks with the latest lens technologies.
WHAT & WHEN:
LensCrafters is holding its Semi-Annual Lens Event, with 50% off lenses, just in time for back-to-school! Starting July 8 through September 12, receive 50% off lenses, including bi-focals, no lines and sunglasses made in your prescription with frame purchase.
WHY:
LATEST STYLES: Fall is just around the corner and now is the perfect time to update your look with a new pair of glasses and/or sunglasses made with your prescription.
ADVANCED TECHNOLOGY: See better than ever before with LensCrafters' new and exclusive AccuFit Digital Measurement System. The AccuFit Digital Measurements System delivers crisper, clearer vision with pupil measurements that are 5 times more precise than manual methods. At LensCrafters you'll get a 100% custom fit, every time.
CONVENIENCE: Need your new glasses right now? Quality-crafted lenses can be made in about an hour at most LensCrafters locations. Some prescriptions or lens materials may require additional time.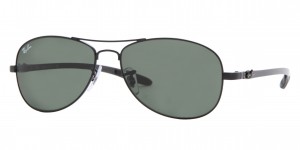 90-DAY UNCONDITIONAL GUARANTEE: If you don't love your new glasses or prescription sunglasses for any reason, and they are in resaleable condition, you can replace or return them for a full refund within 90 days of the date of purchase. Applies only to the original purchase. This guarantee does not cover accidental damage, scratches or breakage.
For your nearest LensCrafters, call 1-877-7LENSCRAFTERS or visit LensCrafters.com
Disclaimer: 50% OFF Lenses INCLUDES BIFOCALS, NO-LINES AND SUNGLASSES MADE WITH YOUR
PRESCRIPTION. Valid on multiple pairs. Both frame and lenses purchase required. Cannot be combined or used in conjunction with any vision care or insurance benefits or plans, any store or other offer, discount or sale, previous purchases, readers or non-prescription sunglasses Valid prescription required. Discounts are off quoted list price. Certain brands excluded, including Duralens, Maui Jim and Oakley Authentic lenses and clearance frames. Void where prohibited. See store for details. Offer expires 9/12/11.
My wife has already taken advantage of this great discount offer as she is wearing wonderful new glasses (yes she paid for them) for those times she doesnt feel like wearing contacts. One of the coolest things I'd have to say is she had them in about an hour – which also happens to be the usual delivery time for food around Manhattan.  Really this amazing – in the same time it could take your nails to get done you're walking out with a brand new glasses that should help you see better.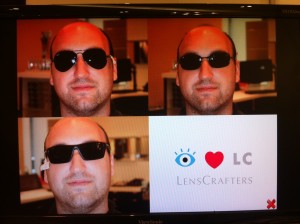 I got to try out this perfect fit technology which is very impressive (ignore my ugly mug for a second) like the glasses that I happened to receive as well – cool because one lucky reader is going to end up winning a their own raybans from LensCrafters. Ray-Ban RB8301 in black with a retail value is $179.95 if you really wanted to know (its also those in the picture to the upper right)!
Now that you've seen this perfect fit technology what is it?
AccuFit Digital Measurement System is 5 times more precise than the traditional, manual method.
LensSimulator: Experience the benefits of each lens choice in a dynamic and interactive way.
VirtualMirror: Enables customers to see how they look in multiple frame styles.
LensCrafters' new and exclusive AccuFit Digital Measurement System enables its skilled opticians to measure the precise location of the pupils, the spacing between eyes, and the shape of glasses to ensure the best possible placement of the prescription in your new glasses. This service is available in LensCrafters locations starting this month, September 2011.
How to win it… Contest ends (along with the sale) on 11:59pm EST. September 12th, 2011.
Tell us your closest LensCrafters is and please include some method for us to contact you in the comment (twitter or email).
You get 1 extra entry for becoming their FAN on facebook –facebook.com/LensCrafters you must comment that you're a fan
You get 1 extra entry for tweeting about this contest (you can do this once). Must contain the following information:  #LensCrafters @LensCraftrsCare @dadarocks – http://dad.tc/qVkURB and you must also comment with the link to your twitter message.
Example: #LensCrafters Semi-Annual Sale Ends 9/12 but enough time to win RayBan sunglasses from @dadarocks & @LensCraftrsCare – http://dad.tc/qVkURB
You get 1 extra entry for following us on twitter – twitter.com/dadarocks you must comment that you're following with your twitter handle
You get 1 extra entry for following them on twitter – twitter.com/LensCraftrsCare you must comment that you're following with your twitter handle
You get 1 extra entry for becoming a FAN on facebook –facebook.com/DaDaRocks you must comment that you're a fan
You will have 24 hours to reply before we pick another winner!
Disclaimer: LensCrafters has provided the prize for this raffle