The embargoes have been lifted and we have blast off for 2020 –  I have the official word of whats coming next from Arcade1up.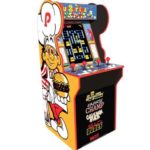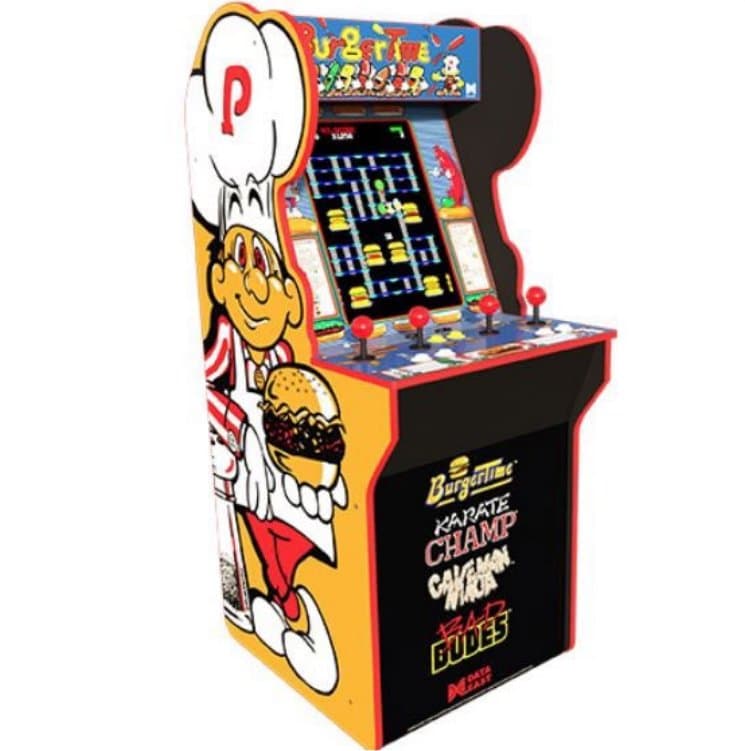 Lets start with a cabinet that was announced already, Burger Time, first we saw it as Karate Champ, but we know it has been upgraded to feature the unique Burger Time cabinet design. Whats the official word? Scott Bachrach, CEO, Tastemakers, LLC. "We're only selling a limited number of these units, as we know this is a collectors' piece, and it will only be available on arcade1up.com for a very limited time. I want our community to know we will continue to launch titles directly to consumers through our website, as long as they continue to support and request them."
Arcade1Up has a promised ship date of March 1st when your order is placed before January 31st. This unit features a light-up marquee, matching riser, and a unique form factor true to the original version with rounded side panels. Additional games include: Karate Champ, Bad Dudes, and Caveman Ninja.
It also a special 40th anniversary Pac-Man cabinet is coming soon, with a ton more games!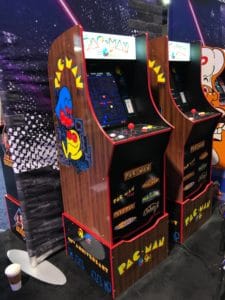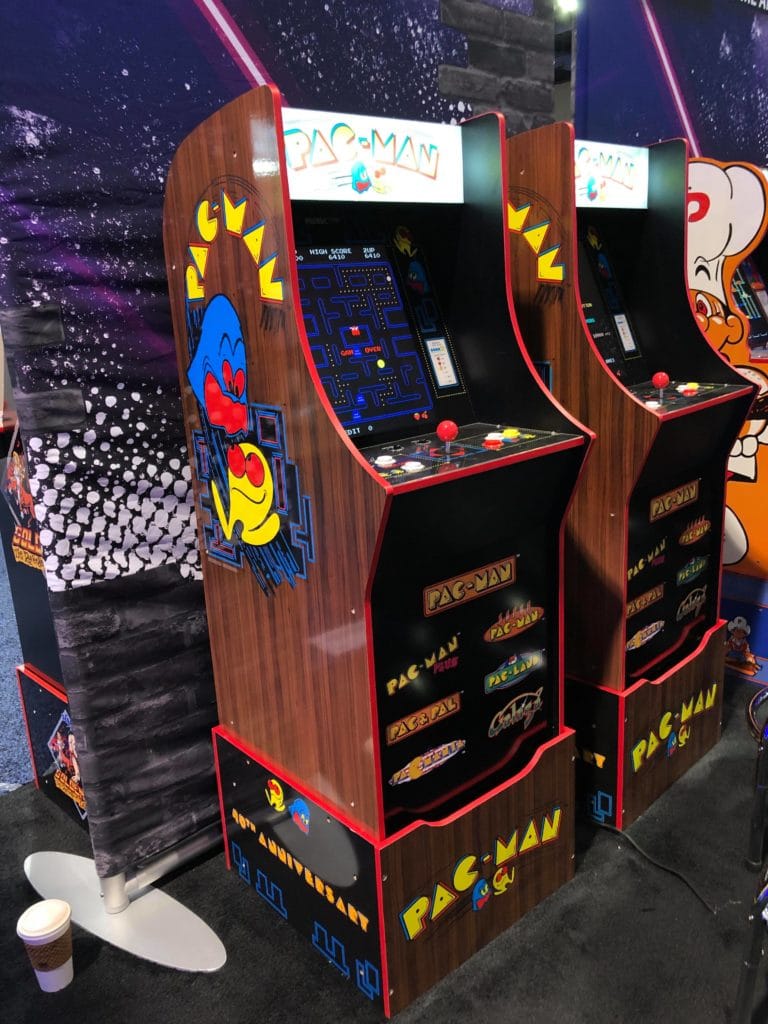 Cool. Now lets talk about whats new…. Arcade1Up will officially be adding the following to their ¾ scale lineup with new titles and features
NBA Jam Live: 

Arcade1Up

's first-ever online cabinet allowing users to play with other

Arcade1Up

 cabinets in drop-in style games with up to four players on four different machines across North America. Games Included: NBA Jam, NBA Jam Tournament Edition, NBA Hang Time
Frogger: Help the animated amphibians find their way home, navigating frog flattening road crossing and hazardous waterways with 

Arcade1Up

and Konami's Frogger. Games included: Frogger and Time Pilot.
Golden Axe: Venture through a medieval fantasy world in search of the legendary Golden Axe. This Side-scrolling beat 'em up 

arcade

 machine game comes with additional games such as: Golden Axe, Shinobi, Altered Beast, Wrestle Wars, and Death Adder.
Atari Star Wars™ Sit-down Version: 

Arcade1Up

 adds a new form factor to enjoy the Star Wars saga. The 

Arcade1Up

 sit-down version comes with a bench that seamlessly slides around the 4ft machine giving it cockpit-like feel while navigating the flight yoke. Games include: Star Wars™, Empire Strikes Back™ and Return of the Jedi™.
With the success of the 3/4 scale arcade cabinets Arcade1up is also going to be releasing some new form factors, like handheld devices, plug and play controllers, at-home Jumbo Joysticks, and more. Partners include but are not limited to: Disney, Namco, ColecoVision, Intellivision, Commodore 64, Atari, and more.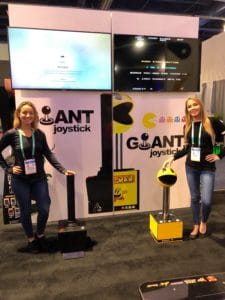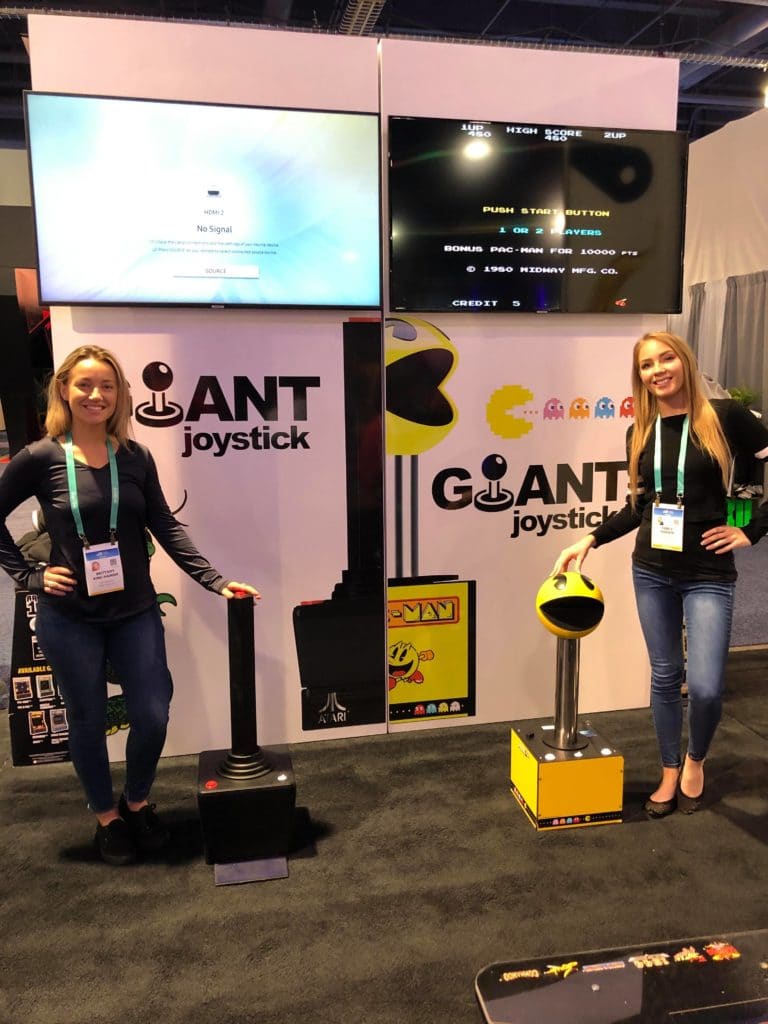 Last part of the official news from Arcade1Up is a partnership with Zen Studios to create ¾ scale digital pinball tables. Wow I'm so excited about this one… CAN NOT WAIT! Zen Studios, known for developing the most iconic digital pinball games to date, brings an extensive range of knowledge and game selection for both retro and modern games.
Stay tuned to this post as we'll update it with the latest and greatest as we have boots on the ground at CES.  Lastly if you're at CES to celebrate the launch of NBA Jam, Arcade1Up  is bringing the world's largest arcade machine to CES and will have former NBA star, Clyde Drexler, in attendance for autograph signing in their booth on Jan 8 @ 12-2pm in the south hall booth #21308.
Thanks to David McIntosh for CES photography.