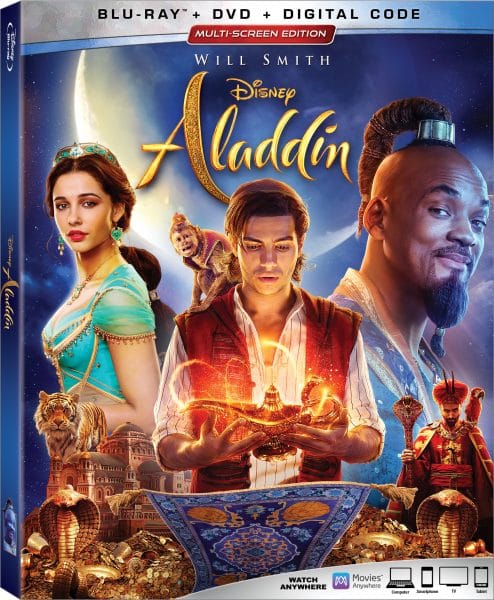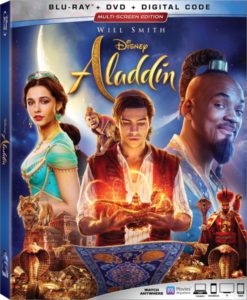 Disney's "Aladdin," the thrilling and vibrant live-action adaptation of the studio's animated classic, has landed in our homes on Digital in HD, 4K Ultra HD and Movies Anywhere, and physically on 4K Ultra HD, Blu-ray  and DVD on Sept. 10. Fans of all ages will enjoy the exciting, humorous tale of the lovable "street rat," Aladdin (Mena Massoud), courageous and self-determined Princess Jasmine (Naomi Scott) and the larger-than-life Genie (Will Smith) with all-new bonus features. The release of the live-action adventure coincides with the addition of the original animated classic to the highly celebrated Walt Disney Signature Collection — granting "Aladdin" fans everywhere the opportunity to own both magical movies.
"Aladdin" stars Will Smith as Genie, Mena Massoud as Aladdin, Naomi Scott as Jasmine, Marwan Kenzari as Jafar, Navid Negahban as Sultan, Nasim Pedrad as Dalia, Billy Magnussen as Prince Anders and Numan Acar as Hakim. "Aladdin" is directed by Guy Ritchie from a screenplay by John August and Ritchie based on Disney's ALADDIN animation screenplay by Ron Clements & John Musker and Ted Elliott & Terry Rossio.
And we also get a Walt Disney Signature version of the classic…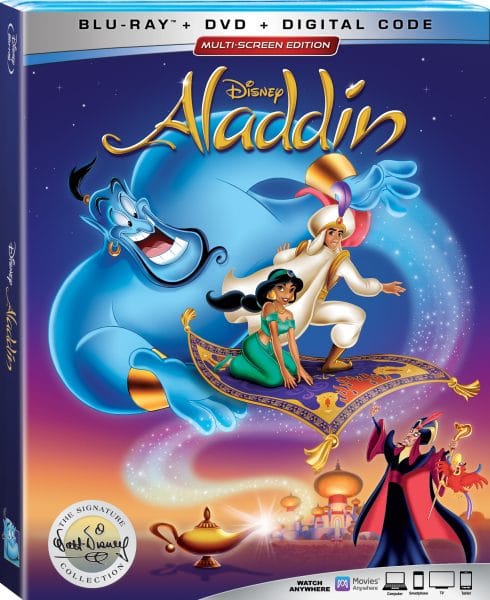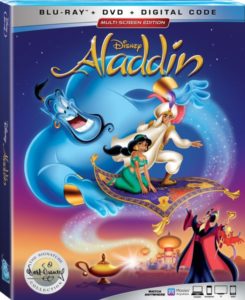 Embark on a magic carpet ride with the entire family when Disney's original animated classic "Aladdin" soars into the highly celebrated Walt Disney Signature Collection, granting nonstop laughs, action-packed adventure and Academy Award–winning music (1992: Best Music, Original Song, "A Whole New World," Original Score) for the first time in 4K Ultra HD. The Signature Collection follows the same launch windows as the live action — with a brand-new sing-along version; all-new bonus features, including original cast recordings; and classic bonus material. The arrival coincides with the in-home release of 2019's live-action film adaptation "Aladdin," granting fans everywhere the opportunity to own both magical movies.
The Signature Collection Edition invites every member of the family to join Genie, Aladdin and Jasmine to belt out the unforgettable songs from "Aladdin" — such as "A Whole New World," "Friend Like Me" and "Prince Ali" — through a new sing-along version. Other fresh features include a walk down memory lane with Scott Weinger (speaking voice of Aladdin) as he reflects on his personal journey portraying the diamond in the rough and meeting with the original cast and filmmakers, and one jump into the recording booth during the original recording sessions. Digital exclusive features legendary animator Eric Goldberg reminiscing about drawing Genie. Also included are hours of classic bonus gems, from hilarious outtakes with the legendary Robin Williams (voice of Genie) to an in-depth discussion with directors John Musker and Ron Clements.