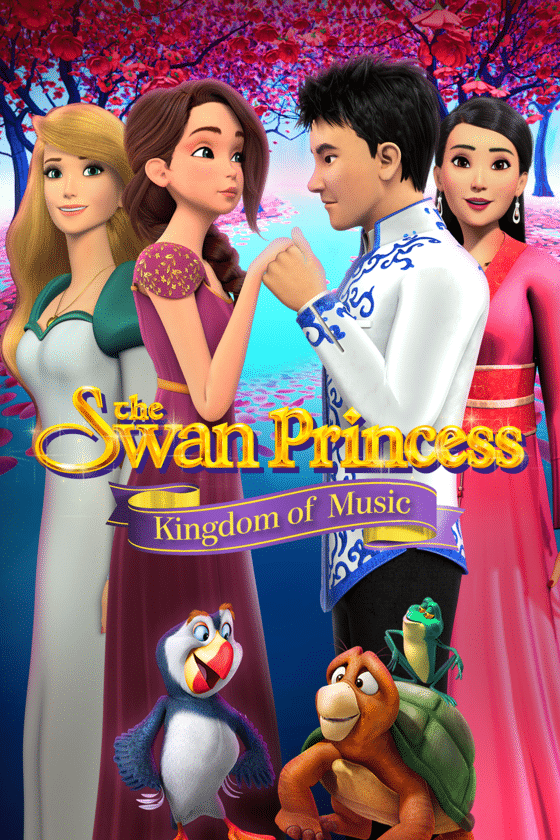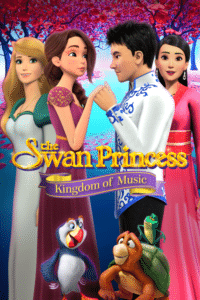 Sony Pictures Home Entertainment has a royal adventure to add some fun to your summer break with The Swan Princess: Kingdom of Music [amazon].
Princess Odette and Her Friends a back 25 years later… I cant believe it!

Your favorite princesses are back in an all new feature length musical adventure! Princess Odette is hosting a music competition to celebrate Princess Alise's birthday – the winner will sing at her grand birthday ball! Prince Li of Cathay has entered, but his sister PrincessMei Li has stowed away on his ship to seek help from Odette and Derrick for Chen, who has been cursed to live as a dragon. Lucas and Alise are reunited but Prince Li's arrival makes Alise doubt her feelings. While Li and Lucas fight for Alise's heart, Derek and Odette try to help Mei Li and Chen break the curse. Who will win the music festival and will Chen ever be free from his curse?
Included with the Kingdom of Music DVD are interactive sing-alongs featuring two all-new toe-tapping tunes from the film and a behind-the-scenes featurette that explores how the world and characters of the film were brought to life.
---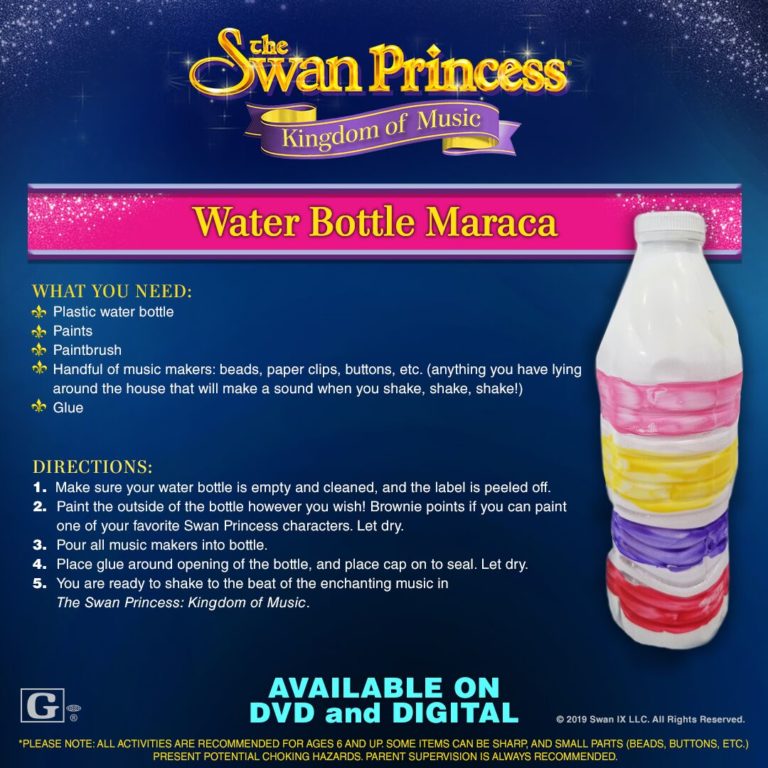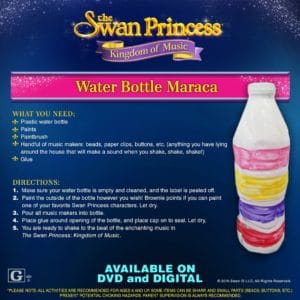 Craft Project: Water Bottle Maraca [view image full size]
---
THE
SWAN
PRINCESS
: KINGDOM OF MUSIC has a runtime of approximately 83 minutes. Both films are rated G.
THE 
SWAN
PRINCESS
: KINGDOM OF MUSIC CAST AND CREW
Director: Richard Rich
Executive Producers: Seldon O. Young, Laura M. Young
Producers: Richard Rich, Seldon O. Young, Jared. F. Brown
Story By: Richard Rich and Brian Nissen
Screenplay By: Brian Nissen
Cast: Nina Herzog, Yuri Lowenthal, Joseph Medrano, Jennifer Miller