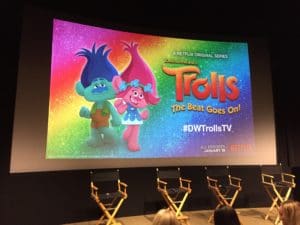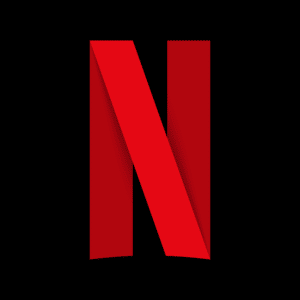 Today is an exciting day for parents everywhere because there is a new series to watch on Netflix! Dreamworks Animation has just released a new series called Trolls: The Beat Goes On.  This is series will now be available to view as of January 19th 2018 on Netflix!
For those of you who do not know me, my name is Dan Gibson. I am from Ontario Canada and I run my own blog and social channels called The Baby Gang. My channel focuses on creating content in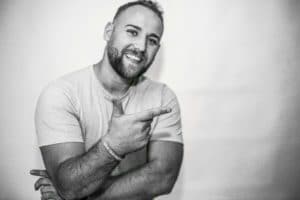 sharing my experience as a parent of multiple children, my 4 year old daughter Emily and 2 year old triplets Jackson, Olivia and Levi.
A big thank you goes to my good friend Adam, who you all know as the man and genius behind the operation of Dada Rocks, who gave me the opportunity to fly out to California and visit Dreamworks Animation Studios to learn all about the new Netflix Original Series Trolls:The Beat Goes On + many more amazing aspects, upcoming projects and a behind the scenes look of all the hard work that goes into making a beautifully articulated animation. I first met Adam is his amazing home town of New York city. It was an awesome experience as it was the first time my wife and I had ever traveled anywhere without our kids. Adam and I connected instantly as we shared a similar interest with our passion for parenting and blogging. Not to mention he was my unofficial New York tour guide!
Over a two day period in Burbank California, I had the opportunity to meet some amazing bloggers, executive producers,  and some pretty interesting and unique characters who all played an important role within my overall experience at Dreamworks Animation Studios. Over the next few weeks, I will be delighted to share all of my wonderful experiences during my visit, so be on the look out for upcoming posts!
That being said, today is all about TROLLS!
You may remember back in 2016 the release of the box office hit movie Trolls  starring Anna Kendrick (As Poppy) and Justin Timberlake (As Branch) where, together this unlikely pair of trolls are forced to embark on an adventure taking them far beyond the only world they have ever known. The new Netflix Original Series connects so well on with its continuation of the overall Trolls experience. Skylar Astin now playing the role of Branch and Amanda Leighton in the role as Poppy!
You can watch the OFFICIAL TRAILER HERE
Meeting these two was honestly spectacular and I was lucky enough to be the only person to get a picture with them. We also got an exclusive sneak-peak on what we could expect to see in the new original series, with the all new cast. Seeing Skylar Astin and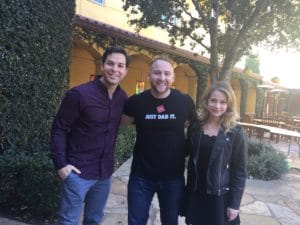 Amanda Leighton take on Branch and Poppy was a very all inclusive experience. THEY KILLED IT! I was so excited to watch each snippet of the show learning more about the Troll way of life. It honestly has everything you could ask for in a 22 minute episode. While watching with such enjoyment I could not stop thinking about how much my kids would LOVE it as well!
From my initial viewing, there were a lot of great takeaways and key messaging to connect with its target audience. It has a fun way of relate-able  problem solving, great humor and extreme entertainment. The music production in this show has such a high level of quality that everyone will for sure partake in some dance and song action!
All in all, I had an incredible time meeting wonderful people and I am very excited to share my experience with you and know you and your kids will love the show. I encourage you and your family to check out the new Netflix Original Series: Trolls The Beat Goes On this weekend!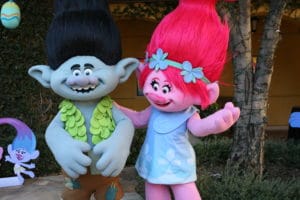 Would love to hear your initial thoughts of the show in the comments below!
Don't forget to check back again soon as I give you a more in depth look at my adventure in California and Dreamworks Studios!