Disclaimer: Accommodations provided by 20th Century Fox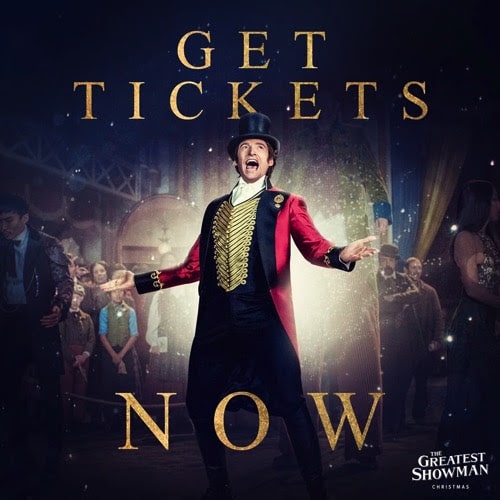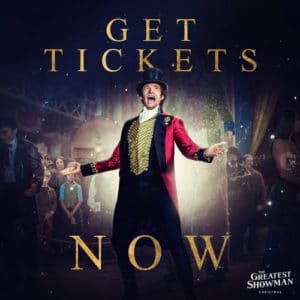 If recommendations matter, then go see THE GREATEST SHOWMAN – Opening December 20 at a theater near you.  This original musical starring Hugh Jackman as P.T. Barnum and as his wife Michelle Williams, along with his partner Zac Efron and also Rebecca Ferguson and Zendaya.  The songs are by Benj Pasek and Justin Paul the writers of LaLaLand and Dear Evan Hansen.
This movie hits all the right notes not only in its song and dance but in the celebration of overcoming obstacles to create a life of making dreams come true.
This story is not necessarily the truth the whole truth and nothing but the truth but it's truth is to storytelling in a mesmerizing spectacle of color, love, and the path that we can take when we have that lust for life.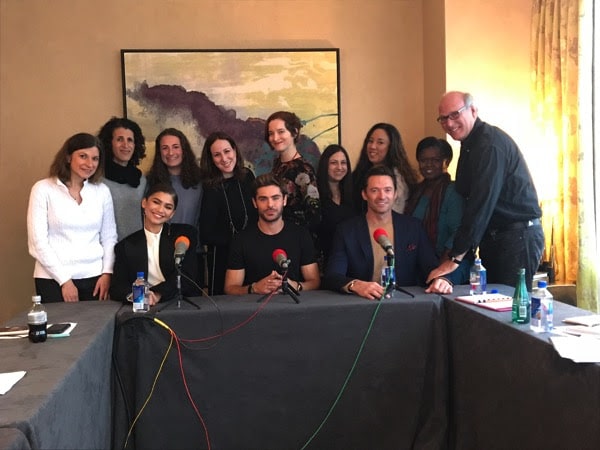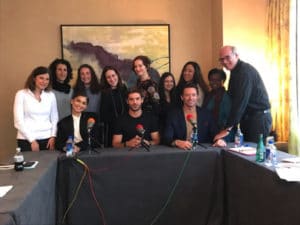 In meeting Hugh Jackman he said the movie, conceived on the night he emceed the Academy Awards nearly ten years ago, felt like a story he wanted to tell as he and the producers discussed how they could tell this story.  The essence of the movie, according to Jackman "if you follow your path and make yourself happy you will make  people around you happy."  Zac Efron added, though he was not involved from the beginning, he's been involved for several years, because of the movie's message, "Love yourself exactly as you are!  It's empowering and cool to be just you!"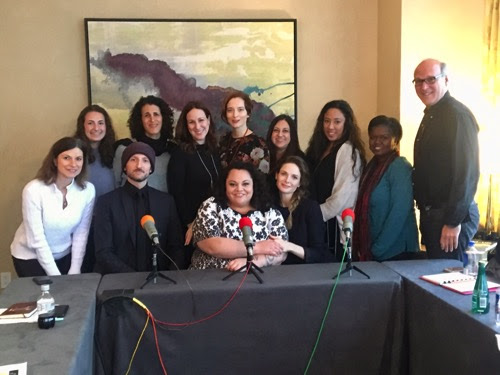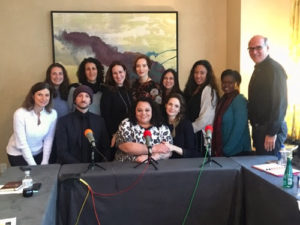 Kelly Settle, who discussed her fears "I was so petrified because this is my first major motion picture in a role that I didn't know was going to be what it is.  I had no idea.  It changed over the course of how it was created as we were creating, you know, in rehearsals and stuff like that before we started initial photography.  And the bigger that it got for me, the scarier that it got because I wanted to hide even more.  And I am still, even sitting here in front of you, fighting that right now."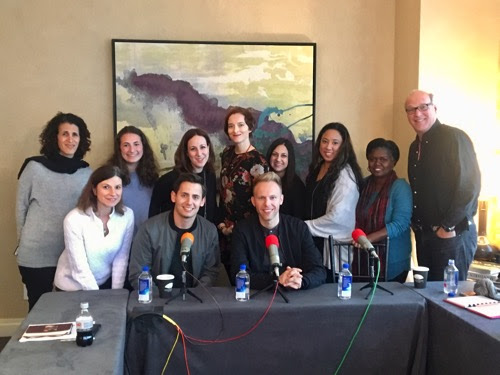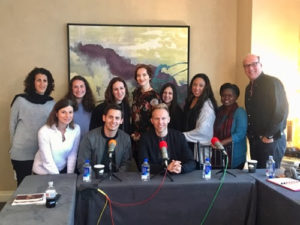 Benj Pasek and Justin Paul did the original music for The Greatest Showman. The musical features 10 original songs and I'm pretty sure they'll win an award or two this season for their amazing ballads.
Set more than a century ago, it has messages that would be well served in the era we live in now, if only we can sing and dance and live on that higher plain of the passion for family, love and friendship overcoming bigotry, power and lust.
In a world where powerful people get what they want in the world, and bullies still get away with picking on kids in school this movie has attributes beyond the joy of the movie itself as the message that everyone should be loved and especially that everyone should love themselves no matter what they look like, where they were born or how far outside societal norms they may be.  While the set is magical the message is hopeful and if hopeful then we can make it real.  "No one ever made a difference by being like everyone else."
I don't want to get too deep because it is still a movie with singing, dancing, acting, music, color, costume and set design all of which can easily sweep the awards season.  Go see it and get the original cast recording so you can learn the words, then, as the new year begins, see it again and again.  It's Showtime. The Greatest Showman is in theaters December 20th.
See the trailer:
Watch the Empire State Building's lights dance alongside The Greatest Showman actress Keala Settle's live performance of "This is Me".

"The Greatest Showman" is a bold and original musical that celebrates the birth of show business and the sense of wonder we feel when dreams come to life. Inspired by the ambition and imagination of P.T. Barnum, "The Greatest Showman" tells the story of a visionary who rose from nothing to create a mesmerizing spectacle that became a worldwide sensation. "The Greatest Showman" is directed by exciting new filmmaker, Michael Gracey, with songs by Academy Award® winners Benj Pasek and Justin Paul ("La La Land") and starring Academy Award nominee Hugh Jackman. Jackman is joined by Zac Efron, Academy Award nominee Michelle Williams, Rebecca Ferguson and Zendaya.

Genre: Musical

Directed By: Michael Gracey

Screenplay By: Jenny Bicks and Bill Condon

Story By: Jenny Bicks

Produced By: Laurence Mark, p.g.a, Peter Chernin, p.g.a, Jenno Topping, p.g.a

Songs By: Benj Pasek & Justin Paul

Score By: John Debney & Joseph Trapanese

Cast: Hugh Jackman, Zac Efron, Michelle Williams, Rebecca Ferguson, Zendaya
Full disclosure: I was invited by 20th Century Fox to participate in this press junket. As always, opinions are my own.