HULK SMASH! I do love that line…   this was by far the best Thor movie by far.  It really takes the best parts of last couple of Marvel movies and puts them together.  Think all the humor of Guardians of the Galaxy spliced with the off beat comedy of Thor. I really loved this movie and highly recommend it for any adult, my son Marc who is 9 was laughing a good bit of the movie and cheered at the fight scenes but there is a body count in this movie, so please think twice about bringing children under 7 to seeing this movie.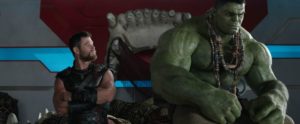 In Marvel Studios' "Thor: Ragnarok," Thor is imprisoned on the other side of the universe without his mighty hammer and finds himself in a race against time to get back to Asgard to stop Ragnarok—the destruction of his homeworld and the end of Asgardian civilization—at the hands of an all-powerful new threat, the ruthless Hela. But first he must survive a deadly gladiatorial contest that pits him against his former ally and fellow Avenger—the Incredible Hulk!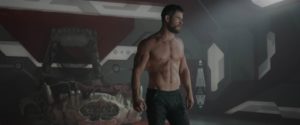 Chris Hemsworth returns to the tle role of the hammer-wielding hero of Asgard. He is joined by  Tom Hiddleston  as Thor's duplicitous adopted brother, Loki; Cate Blanchett as the villainous Hela;  Idris Elba  as the Asgardian sentry, Heimdall; Jeff Goldblum as the eccentric dictator, Grandmaster, ruler of Sakaar; Tessa Thompson as the fierce warrior, Valkyrie; Karl Urban as Skurge, one of Asgard's strongest warriors;  Mark Ruffalo, reprising his role of Bruce Banner/The Hulk from "The Avengers" and "The Avengers: Age of Ultron"; and   Anthony Hopkins again portraying Odin, King of Asgard.
There are two after the movie scenes.  A mid credit scene and one extra scene at the end of credits.
THOR OPENS FRIDAY, NOVEMBER 3RD 2017!
Disclosure: We attended a screening of this movie to help facilitate the review. All opinions are my own and honest.