As part 3 of our continuing coverage of the home video release of Disney Pixar's CARS 3, we were granted time with Director BRIAN FEE and Producer KEVIN REHER. Together they shared insight on the changes and decisions made during the creation process and how ultimately it changed the direction of the film.
Brian Fee started with Pixar Animation Studios in 2003 as a story artist. During his time with Pixar he has has worked on the "Cars" films, "Ratatouille", "Wall•E," and "Monsters University." With "Cars 3" Fee makes his directorial debut.
Kevin Reher joined Pixar Animation Studios in 1993. He began as a finance and production representative for Walt Disney Pictures on "Toy Story" and co-producer of "A Bug's Life." In 1999 he formally became a part of Pixar as the development producer, overseeing the "incubation period" of feature and short film projects, starting with 2003's release of "Finding Nemo." Reher also oversees Pixar's casting process, beginning with "Finding Nemo" and "The Incredibles," and continuing with "Cars 2," "Brave," "Monsters University," and the studio's 2015 releases "Inside Out," which won the Oscar® for best animated feature film, and "The Good Dinosaur."
One of the first things that becomes apparent when viewing this film is that it's not just a rehashing of the existing story. In "Cars 3" we're introduced to Cruz Ramirez (voiced by Cristela Alonzo), a younger female assigned to help train Lightning McQueen (voice of Owen Wilson) take on the new generation of faster racers. As the story progresses we learn that Cruz is not only a trainer, but also quite capable in her own way. She just needs to learn that for herself. This storyline was not always a part of the script. During our Q&A we learned that the decisions to make Cruz a "she" was not only driven by story, but by what the production team observed in their real lives as parents and coworkers.
Question: How do you feel about Cruz and Cristela, and that character, and what she brought to the movie?
KR: We absolutely love her, she's so fun to work with too. She did all of her recording on set, flying back and forth.
BF: You know Cruz didn't start off as a female character. Early on in the process of this film it was a male one. While we're trying to constantly evolve and enrich the story, and we just keep redoing it, we eventually realized that we're missing an opportunity here. I have two girls at home, and here we have a very heavily male dominated movie, and it's a male dominated sport. I wanted something for my daughters, something for them to look up to, for then to identify with. I would see them afraid to do something. If they thought they were going be bad at it, they just wouldn't even try it. That's human nature, but it still breaks your heart as a parent. Because, well, everyone's bad at everything at first. Everything that happens at home, it gets put in our back pockets, and we come to work the next day, we start talking about story. That kind of stuff, it comes up. So we started just paying attention to all this, and we thought Cruz needs to be a girl character, on every level. First thing we did we made her a female. We do these rough screenings, it's all storyboards, and it's all just us doing the voices and stuff just to try out the story while we work on it. We decided let's not rewrite the part, let's just make it a female. That didn't work.
KR: Having a female character speaking former lines by a male character was like, uhhh…
BF: Well it wasn't a strong character…
KR: Yes. If you look at the deleted scenes, you also can see her journey as an actress and how she found the character, because some of it's a little cringeworthy.
BF: The original Cruz as a male character was working at the time. He was very… soft. You almost have this…
KR: …Syncophantic assistant…
BF: Yes, and he was funny because he wasn't confident. He didn't have any bite to him, and that was somehow entertaining as a male character. As soon as we gave it a female voice it was just all kinds of wrong. So we started to write the character with more bite. That's why we have the scene where McQueen starts blaming her. He's just frustrated, and kind of lashes out at her… and she just, like, bites him back. That's the reason we wrote the scene that way, it's because we thought "What would Cruz really do?" It's a learning journey. She was easily the hardest character to crack, and she was also quite frankly the most important character in the film.
Many of the characters in "Cars 3" were voiced by real-life racers like Junior Johnson, Ray Evernham, Kyle Petty, Shannon Spake, Danny Suarez, and others. They may be perfectly comfortable behind the wheel, but placing them in front of a microphone could be a different story. We asked the team about what it was like working with these professionals.
Q: You've worked with great voice actors on many of your films. How was it working with some of these actors, taking them out of their comfort zones?
KR: Blood, sweat, and tomatoes! (laughing) It was masterful, but when you have non-actors it can be tough.
BF: When you have an actor, well trained and experienced…
KR: Kerry Washington (voice of Natalie Certain) comes in and just knocks it out of the park. You're done early.

BF: But you still have to put them in the right mindset. They have to feel it so that what comes out of them feels true. They're not concerned about how silly they look. With a non-actor they're aware of standing in front of a microphone, everyone's watching. They're not comfortable making funny noises. In that moment the job is to make them become comfortable, which usually means me making a fool of myself. For example working with Kyle. There's a really heartfelt moment where he has to basically say goodbye to McQueen. It's really an acting moment. I already knew that that's going be a challenge, it's going to be hard. It's one thing to just say some things really loud as a joke, and it's another thing to really connect on an emotional quiet level. One of the things we did was after he had the line down, I took his pages away so he was no longer reading words, to get out of that reading cycle. Then I would stand really close to hime and say "No, don't say it to the microphone, say it to me." I would get uncomfortably close to force him to just say it to me. He would lower his voice, and we would just do it alot. He got more comfortable, and we recorded him several times. He got really good by the end, he adapted and he learned.
Part of what makes the "Cars 3" franchise work it the incredible amount of detail that is integrated into the films. The backdrops, racetracks, and scenery all seem to interact on a real level. Much of this is due to the amount of research that goes into producing the work. We asked Brian and Kevin if they did any specific research in preparing for this film:
KR: It was great. We started on Route 99, then Charlotte, Daytona…
BF: We hung around racetracks.
KR: Lot's of racetracks. Abandoned tracks. We went to Wilkesborough in North Carolina, Occoneechee, and that's how we ended up hearing about the legends of racing. All the legends came out of all that research.
BF: Then we spent equal amount of time talking with drivers, like Junior Johnson and people that were there when it was getting started, and hearing their stories. You'd take all that stuff, and you have kinda put it in your back pocket. Then it comes up later, and it's like "We got to have a character named Smokey that's in some way fashioned after Smokey Yunick." Then you're able to attribute certain things to that character based on the real person that give it a richness.

KR: "Smokey's Garage, best dang garage in town." It's actually Smokey Eunic's Garage was the best damn garage in town, but it's a Disney movie, so we couldn't. After we talked to Junior Johnson and mentioned that we had visited Occoneechee he said that he had ended up in the river there a couple of times. So we ended up with a character named River. Then there's the story of Wendell Scott, who was the only African American stock car racer. If you watch the DVD extras there's a terrific featurette on the legends, and his story was amazing.
Finally, we asked if they were happy with the final product, and if the next one would be even better.
KR: Yes, very happy with it.
BF: Yes happy with it. As far as the next one, I hope I can learn from the experience and do better. That's what we live for, doing better.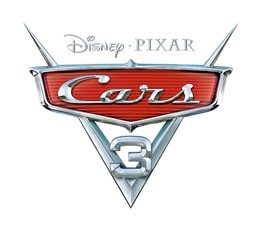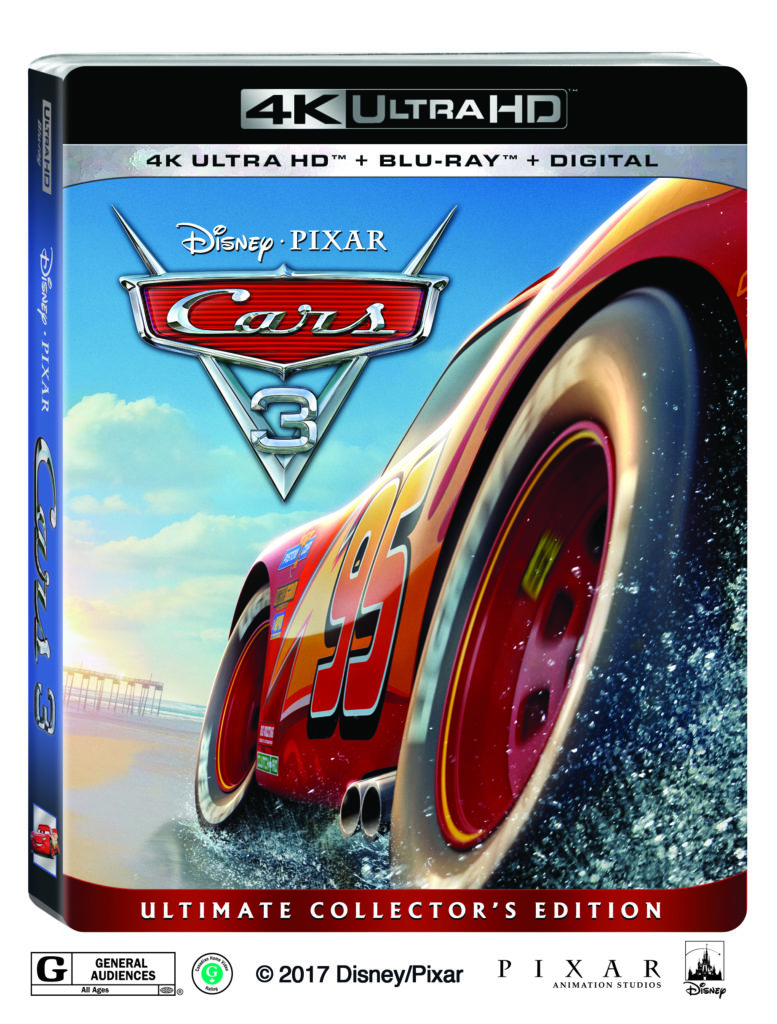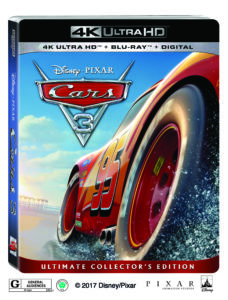 CARS 3 now in HD and 4K Ultra HD
Blu-ray 4K Ultra HD & Blu-ray on November 7th