The Home Depot ProSpective event April 25-27, Atlanta Georgia
When you think of Home Depot you may think of aisles of lumber, or you may visualize the endless varieties of flowers and plants, or perhaps you thi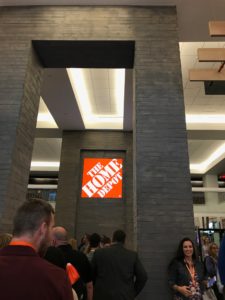 nk about the options they supply to upgrade that kitchen or bathroom.  No matter what you initially think of, the one thing everyone knows is that Home Depot is the place to buy any tool you could need for your project.  Last month I had the honor of being invited to the inaugural ProSpective event hosted by Home Depot in their hometown of Atlanta Georgia.  This was a three-day event where a group of bloggers, podcasters, TV hosts, and industry professionals were given a tour of the Customer Support Center (they don't call it Headquarters), given a one-on-one experience with various tool manufacturers, and lastly, provided the opportunity to help Team Depot in giving back to the community.  It was a busy three days full of information and hospitality.  I came away with a better understanding of how Home Depot operates, how they treat their employees, and how deeply they care about their customers and the community.
Day One – The Tour
After arriving at the hotel and settling in, we boarded tour buses and headed to the Support Center.  This is a huge 4 building complex, 3 of which are attached by a lower level aisle known as "Main Street".  Entering the main entrance, there is no question of where you are.  The famous orange and white logo is prominently displayed as you walk in.  All along the wall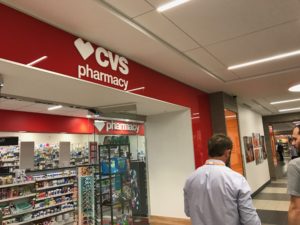 s you find images not focused on the company and its accomplishments, but instead everything seems focused on the people who work for the company (The Associates) or the customers, or the various ways they give back.  Once we were cleared through security and began the tour we started to understand really how large the place is.  Capable of holding 6000 associates if completely staffed, they have their own Starbucks –  the busiest in the area, a CVS with an on site nurse, company store, multiple eating establishments, company museum, and a full service gym as large and well equipped as any I've ever seen.  One item that I noted was just how clean everything is.  With all the people who traverse the halls you would understand and even expect a certain level of soiling just from the foot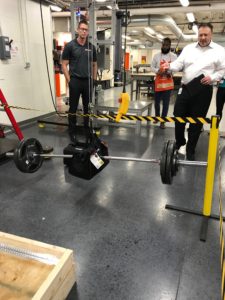 traffic, but this place is nearly spotless.  Of course they have all the departments you'd expect to find: HR, Accounting, Legal, etc., but what you won't find everywhere is a quality and engineering laboratory.  There are over 12000 different items on the shelves and at some point they all get tested for strength, durability, quality, and materials.  Not only is the hardware examined, but even the packaging is tested for durability and the ability to keep the contents safe under extreme conditions.  It's good to know that the tools are tested to 2x and 3x the rated strength to make sure that when used they won't fail on you when under stress.
 Day Two – The Experience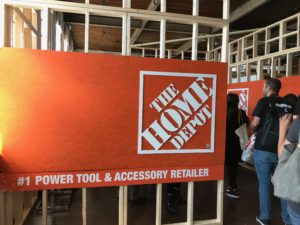 The next morning we boarded buses which took us to the Ambient Plus Studio.  There we were to have the opportunity to speak directly with many of the tool manufacturers and suppliers.  The studio was configured so that each vendor, Husky, Ryobi, Milwaukee, Dremel, Makita, Rigid, Bosch, and more, had dedicated space to talk about and demonstrate their various product offerings.  Some were focused on the professionals, others more on the DIY home user. No matter who we spoke to though, it was clear that there is an excitement and passion for what they make.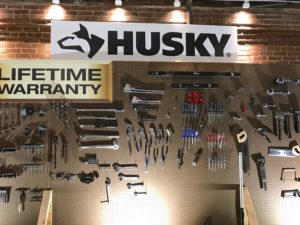 What became apparent as we visited each location was that even the most common of tools can continue to be engineered and improved upon.  In the case of Milwaukee, they wondered why use metal in a tape measure that can bend? Instead they use a combination of materials that provide strength and flexibility.  If a spool takes a long time to be recovered, instead of direct drive use a gear to double or triple the return rate with the same effort.  Some of the biggest improvements seem to be in the portable and battery operated segment.  All of the vendors are now offering products that hold a charge for a longer time, yet take less time to recharge. Ryobi in particular seems to have dedicated much of their attention to this focus.  They now offer a complete line of small, but powerful, tools that all use the One+ battery system. Drills, lights, sanders, saws, blowers, routers, speakers, even a garage door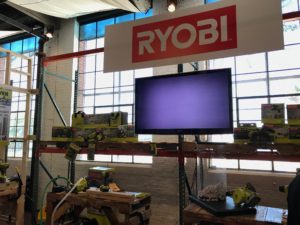 opener and more. All powered by the same platform.  The other theme many of the vendors are embracing is app connectivity.  More and more options are being made available to control or monitor tool operations and locations via your mobile device.  Of all the locations, my personal favorite was the Husky Tools exhibit.  They specialize in hand tools of all types.  What really impressed me about their products was the amount of testing the tools are put through before being approved.  It's what allows them to offer a full lifetime warranty on all tools.  I watched them freeze flashlights in a bucket of water for days, smash them against a brick wall, bend wrenches under extreme pressure, but nothing broke.  I left the session with a deeper understanding of what goes into the design and development of both hand and power tools.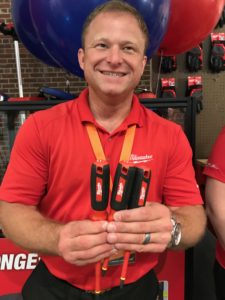 The second half of the day we were treated by our hosts to a private rooftop party at Skyline Park in Park City Market.  The best description that I can come up with of this venue is that of a miniature Coney Island.  There's a boardwalk with the standard games, 18 hole miniputt golf, slides and rides.  The food and drinks were all fantastic.  To top it off there was a beautiful view of the Atlanta skyline.  This is what southern hospitality is all about!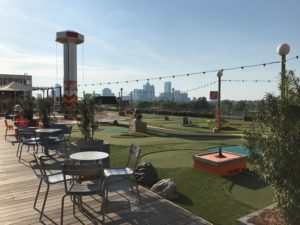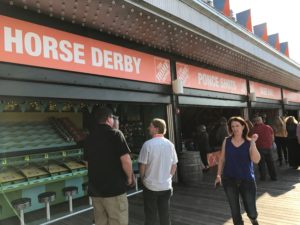 Day three – The Community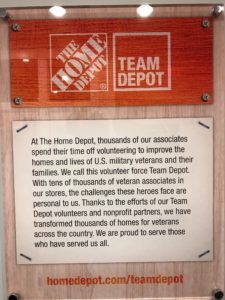 One of the ongoing themes which was continually addressed during our visit was that of how Home Depot attempts to give back to the community.  Our final day was scheduled to give us the chance to see this in person and even actively take part in the process.  Team Depot is the volunteer group within Home Depot that exists specifically to assist veterans and their families in need around the country.  The original plan was for us to work outside, using some of the tools we had seen the day before to help frame and build housing for some local veterans.  Unfortunately mother nature had other ideas and there were storms in the area.  Instead, we were given the opportunity to work indoors at the Furniture Bank of Metro Atlanta.  This organization collects lightly used furniture, freshens it up, and then makes it available to those in need.  This may be a family on hard times, or someone coming out of homelessness and needing to furnish their new residence.  They also receive donations of new pre-fab furniture to be assembled and distributed as needed.  Our assigned task for the morning was to build kitchen tables, dressers, and coffee tables.  As mentioned earlier, we had people of various technical and tool experience levels.  Some were comfortable grabbing a nai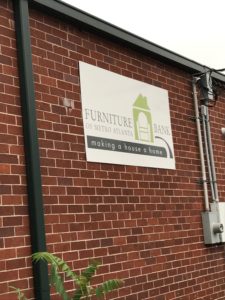 l gun to assemble legs, others felt better with a screwdriver, but we formed up small teams and went to work.  The warehouse itself is a fairly large area, and while we were on one side assembling the furniture, there were clients being escorted around the other side picking items that they liked and making the delivery arrangements.  We were only there for a few hours, but all told we built over 60 pieces in total.  As our guide explained to us, the need is great and most likely all the items would be distributed by the end of the weekend.  It
was already Thursday.  As we grabbed our box lunches and headed to the buses for the ride to the hotel for the last time this trip, everyone commented on how much thought and care the staff put into servicing their clients.  There was a noted respect for their privacy and an honest sense that they really cared for the people they helped.  We were happy to have been able to do what we could, even for such a short time.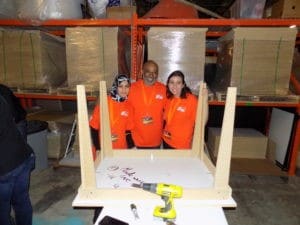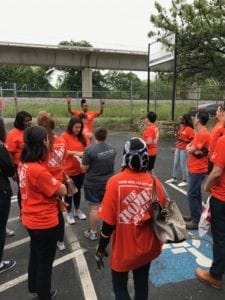 The time spent as a guest of The Home Depot was more than just a tour.  They provided a deeper understanding of how the company works, and what their core values really are.  They are more than just a tool and home improvement supplier, they are a company committed to their communities across the country.  The next day I needed to visit my local store, and as I walked through the doors and was greeted by an associate, I think I may have given her a little more of a smile in return.  Off to the paint aisle!