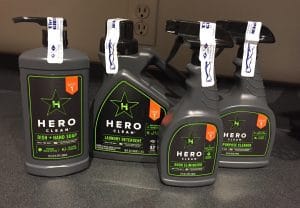 One of man's greatest pet peeves about cleaning is most of the soaps leave you smelling flowery-fresh. Which sometimes is ok, but other times I'd rather just be clean. Enter Hero Clean this new product—that's made in the USA—is pretty awesome, but the best part … Every bottle sold supports our nation's veterans.
My wife and I have a "soft" rule about whoever cooks dinner, the other person cleans. I say soft because there is a number of times we order in food and I'm still doing the dishes but I guess its all worth it for the happy wife, happy life aspect. So I do two or three pumps into a sink full of dishes and Hero Clean goes to work. it makes great soapy water and has world class Grease Cutter, No-Scrub Technology for dried on food, has been dermatology tested, and is Bleach and Phosphate Free.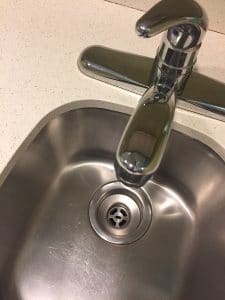 The Hero Clean All-Purpose Cleaner is fragrances with Juniper…. Why Juniper? Well, it's the flavoring ingredient in Gin. Ahhhh, now you got it.  And the All-Purpose cleaner is really just that it could be used on tile, wood, laminate, pretty much anything.
Ready to Hero Clean your home? 
Hero Clean products are available now in select stores: Ace Hardware, Wegman's, Runnings, and Target.
Disclosure: I received compensation in exchange for writing this review. Although this post is sponsored, all opinions are my own.